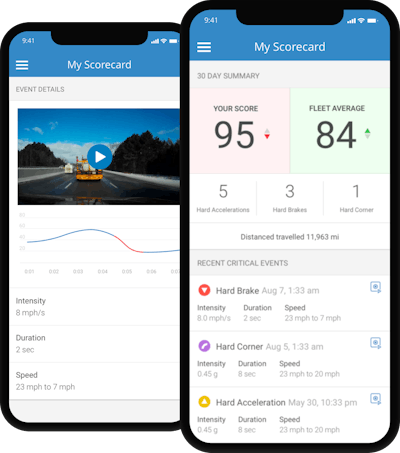 KeepTruckin, a prominent ELD provider in the owner-operator market, announced Wednesday it has added several new features to its Smart Dashcam system, which was unveiled last year and aimed at the small- and mid-sized-fleet market.
The updates are intended to help fleets coach and train drivers, KeepTruckin says.
The road-facing Smart Dashcam can now recall video footage from the previous 35 hours of recordings as well as add annotation to video clips that describes the context leading up to a captured event. These features allow fleets to prioritize events for review, filter them based on tags and monitor changes.
The Smart Dashcam has better fused its trigger sensors, says KeepTruckin. The system uses a combination of vehicle speed, GPS speed, accelerometer and gyroscope data to identify driving events.
The system now also allows for in-app driver coaching.
Though the updates to KeepTruckin's dashcam system are mostly aimed at small and mid-sized fleets, the video system can also be used by owner-operators. Meant to be a more affordable and simpler entrance into video monitoring, the system detects events like hard braking, hard accelerating and accidents and records ten seconds of high-def video before and after the event.
Videos are available in KeepTruckin's dashboard, the portal where fleets and operators also manage log data. The Smart Dashcam starts at $100 for hardware plus $40 a month for full dashboard access.