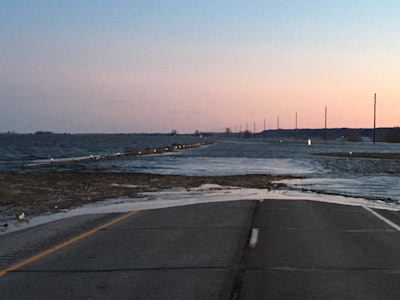 The Federal Motor Carrier Safety Administration has issued an emergency declaration for 16 states due to severe flooding in the Plains and Midwest, suspending hours of service regulations for truckers providing "direct support of relief efforts" to affected areas.
States included in the declaration are Arkansas, Illinois, Iowa, Kansas, Kentucky, Louisiana, Minnesota, Mississippi, Missouri, Nebraska, Ohio, Oklahoma, South Dakota, Tennessee, West Virginia and Wisconsin.
Drivers hauling supplies, equipment, fuel and more to and from the affected states can operate under the declaration, which waives Parts 390 through 399 of the Federal Motor Carrier Safety Regulations.
FMCSA also announced it will not enforce the Temporary Operating Authority Registration fee for carriers requesting temporary authority to provide direct assistance to the affected areas.
The declaration is effective for the duration of the emergency or through April 18, whichever is less.