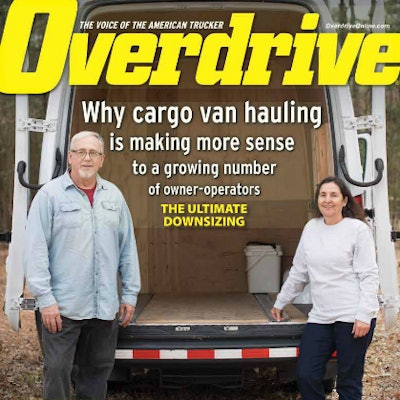 With its under-10,001-pounds regulatory category, cargo-van hauling might seem to hold the key to addressing some of the biggest complaints among Class 8 owner-operators.
Outside of placardable hazmat hauling in a van, such owner-operators do not have to cross scales, keeping them out of the prying eyes of temperamental inspectors. Parking well away from crowded truck stops and rest areas is easy — many van operators make use of campgrounds and RV parks, often with shorepower available.
Home time often can be achieved more easily, given vans are capable of well more than double the typical fuel mileage of a Class 8. Empty somewhere late on a Thursday? "When you can get 18 to 20 miles per gallon," says Landstar-leased van owner-operator Darren Ayres, it might make sense to deadhead a few hundred miles to "be home and spend the weekend in the house."
And perhaps most important to some operators: Outside hazmat, vans by and large do not have to adhere to federal hours of service regulations or the electronic logging device mandate.
The cargo-van niche also has attracted attention inside and out of Overdrive's traditional Class 8 owner-operator audience in recent times for other reasons. There's a lower barrier to entry in terms of equipment costs and licensing. For most van operators, a commercial driver's license is not a prerequisite for obtaining non-hazmat work.
Sticker prices on new gas or diesel vans of optimal size for hauling are far less than prices for new Class 8s. Ohio-based expediter Tim Paxton purchased his high-roof 2017 Ford Transit 350 new for a little more than $40,000 and last summer was running at 34 cents a mile for costs, including fixed costs. Fuel mileage in the Ram, Ford, Nissan and Mercedes vans common in the niche easily can hit 20 mpg.
These numbers also lead to per-mile pay rates that look terrible to most Class 8 owner-operators. Recruiting advertisements of 70 to 90 cents are common and profitable, though rates can vary considerably. Rates approaching a dollar a mile were typical for Paxton in the Midwest last summer, though he noted different areas and freight could yield lower rates from Barrett DirectLine, the Arkansas-based operation to which he's leased with 250K miles on the van, without issues.
Paxton also noted a downside to most van operators' existence outside the regulatory limits of hours of service – the sense among some that they're pushed by their carriers. Granted, operators running hard easily can exceed the annual miles that are typical for a Class 8 owner-operator, but fewer miles also are common in choosy operations such as Ayres'.
But the easy-in reputation isn't always justified. Operating with motor carrier authority can be difficult for new entrants. A unique multicarrier expediting model also brings its own costs and problems. Nonetheless, those who find ways to set themselves apart with extra credentials or unique equipment have found profitable homes within it.
Benefits of a CDL: Access to higher-rate freight
When Darren and Trish Ayres retired from the military years ago, "we weren't sure what we wanted to do next," says Darren Ayres, who had a Class B license at the time. "I upgraded to a Class A, and after six months, she did the same thing."
The pair had a leased Class 8 truck before buying a used unit they leased to Landstar. With their military backgrounds, they gravitated to the company's substantial contracting with the U.S. military, hauling arms, ammunition and explosives.
"We were hauling a lot of loads that would fit in a cargo van," Ayres says. In talking with other Landstar expediters, he confirmed that continuing in AA&E while downsizing was viable.
In November 2017, they moved to a diesel-powered Mercedes Sprinter with rear super-single tires. The model was chosen principally for the 2.5 extra feet of available cargo space compared with Chrysler and Ford models, Ayres notes. The couple planned to take up about 8 feet of cargo space with a custom sleeper. Unlike most cargo van haulers who can fit up to three skids in the hold in standard configuration, the Ayres' unit is capable of just two and up to 2,000 pounds of cargo.
They make up for that limitation with their CDLs. "About 80 percent of our loads are hazardous material," Darren says. They bring much more in percentage revenue than the typical less-than-a-buck a mile. In 2018, the couple ran about 150,000 miles, 40 percent of that deadhead. They averaged about $1.40 for all miles on many trips, after fuel costs but not accounting for other costs. That yielded combined net income in the six figures, well more than $1 for every loaded mile.
With the two of them getting generous military retirement income, they can be picky about freight. A cargo van set up with some of the comforts of a home is ideal for such choosiness. Deadhead miles home or to the next load cost much less, for one. "We average 18 to 20 miles per gallon" of diesel, Ayres says.
"We didn't expect to be running as hard" as previously when they moved to the van, he says, which turned out to be mostly true. "We spent a lot more time at home" during 2018, but "we found out we actually made more money."
Next in the series: Cargo van owner's competitive edge in equipment configuration