Longtime expediting small fleets and, to a lesser extent, one-truck owner-operators will know the Sylectus transportation management system platform and its load board, a stalwart in that niche for freight needs among expediting carriers. Sylectus has been under the ownership of Omnitracs for more than a decade now. This spring, the company announced that a full year's worth of the COVID-19 pandemic had brought sizable growth in freight movement through the Sylectus engine.
It hit two new milestones – a record high number of trips completed through the platform in a single day, as well as a record number of loads posted to its load board.
Omnitracs Sylectus recorded a 44% year-over-year load growth rate on top of that – among the biggest annual rate in its history.
For 12-truck mostly owner-operator fleet Motor City Expeditors, a customer of the TMS and load board both since 2014, the platform has been a lifeline. Among customers, said Motor City's McKenzie Korn, "The companies we do use and use consistently – Load One, Bolt Express, Tiger – we found them through Sylectus and maintained our relationship with them through Sylectus."
The Sylectus Alliance enables member carriers (of at least five trucks in size) to share freight with each other and access the Sylectus load board, a boon to small fleets looking for secure ways to cover loads without traditional-intermediary interference. Likewise the constant necessary vetting of unknown parties.
[Related: How to vet brokers' credit before taking a load]
The pandemic saw a big commodities shift for Motor City, however, as happened throughout the automotive-heavy expediting universe. "It was a different ballgame," including on the Sylectus load board, where Korn and company forged new relationships with brokers to haul "paper products and grocery goods. ... [Sylectus] allowed us to have repeat business with contacts" made there, including many "we'd never heard of or worked with prior."
Korn felt benefit there she may not have been able to gain through less-tight-knit, larger load boards.
"When we're using the other load boards," she said, "you don't really know who you're working with" a substantial amount of the time. You "might know you're working with TQL, but we don't know if it's the same person. With Sylectus, we're able to build a relationship with a particular person or department."
That helps avoid all the "crazy freight scams that are going on," she added. "When it comes to Sylectus, we don't see that" there.
[Related: Growing broker/carrier business identity theft scam repaing millions]
As do most load boards, Sylectus maintains a strict prohibition on double brokering, among other measures aimed at enhancing trust in the platform.
The Alliance operates on a "coopetition" model, according to Omnitracs Sylectus Managing Director Kimberly Drouillard. Participating carriers are "competitors yet they're working together. They can set up who sees what you do – and you can send loads outside of the network as well."
Omnitracs Strategic Initiatives Vice President Mic Yariv believes "coopetition is a powerful tool. ... one of the biggest strengths of the network."
Taking full advantage of the network through the Alliance requires carriers to have at least five trucks and go through an initial vetting process, part of efforts to "police the network" that occur on an ongoing basis as well, Drouillard said. "Our customers help us with that. That was the whole point of the system and why it was built in the first place."
There is a way around the five-truck minimum – investment in the Omnitracs Sylectus TMS. In just that way, she added, "many of our customers started out with two trucks, four trucks," growing from there.
The platform has made strides, too, in dashboard modules allowing users at a quick glance to analyze their performance.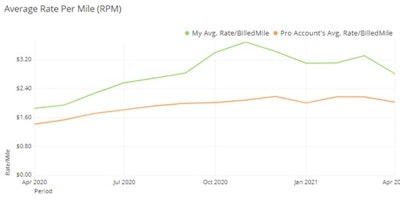 "Because we've been doing this so long," Yariv said, "we have a tremendous amount of data to leverage to bring greater efficiency and better daily satisfaction to carriers."
Growth has come in the last year not only in the number of loads posted but the number of carriers utilizing the load board or TMS itself, Drouillard said, noting around 300 carriers had been added within the last year.
[Related: The lowdown on downsizing: Hauling expedited in a cargo van]
Growth has been achievable for Motor City, too, on account of the system, Korn said. It's given her a way to post trucks and "get moving the same day," to "dispatch, do our payroll and billing. ... Our growth from 2018 to now: Sylectus has been a key factor in that, with drivers now communicating with dispatch through" the Sylectus driver app, "and vice versa." That's really streamlined communications with drivers, allowing everybody to focus on the tasks at hand.
"They don't have to constantly call dispatch for an update. It's been a pretty key factor in terms of keeping us moving on the operational side and with accounting."
[Related: No turning back: New era for direct freight]