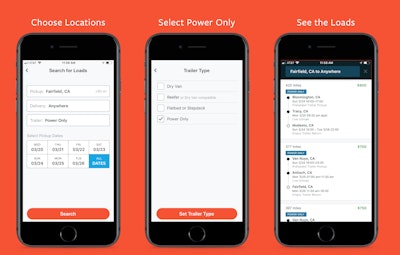 Freight-matching brokerage Convoy has expanded its marketplace with a pre-loaded trailer program that allows owner-operators and small carriers access to drop-and-hook loads. Convoy Go, which opened for use Thursday within Convoy's existing system, aims to curb detention time for drivers and provide greater access to power-only loads, the company says.
"We built Convoy Go to enable drivers to increase their productivity and earnings, all while providing shippers with greater capacity," said Tito Hubert, product lead for Convoy.
The company has been piloting the program since 2017, says Hubert, with certain shippers and carriers. Data from the Convoy Go pilot program shows average wait times at shipper and receiver facilities to be about 45 minutes, said Hubert. That's compared to an average of three hours for Convoy's other brokered loads.
Given the trailer assets needed to enable a drop-and-hook network, such freight has traditionally been dominated by larger carriers, says Hubert. "Little guys can't access this type of freight," he says. But with Convoy's network of trailers, which the company leases from third-party providers, "we can leave [trailers] in shippers' facilities so they're pre-loaded, so that any carrier using our app, regardless of size, can participate." Trailers are typically loaded 24 to 48 hours ahead of a driver's arrival to pick up the load, says Hubert.
Before hauling a load in Convoy Go, carriers must sign a trailer usage agreement within the Convoy app. After that, carriers can search for power-only loads within Convoy's system based on routes and pricing and find loads they like.
Hubert says the company has "an aggressive plan" to grow its drop-and-hook marketplace so that there are plenty of loads available. The company is working with its shipper customers to expand the program and available freight within Convoy Go.
App-based Convoy rolled out its brokerage nationwide in 2017. The company announced this year it has reached near full automation in its load matching, meaning that shippers post loads, and those loads are matched with carriers without any interaction between the parties or intervention of Convoy personnel. Carriers can book loads entirely within the app.
Last month, the company announced an "automated bidding" feature that allows carriers to set their desired lanes and desired rates. If they win a bid for a load, they're notified instantly and have the opportunity to accept or reject it.