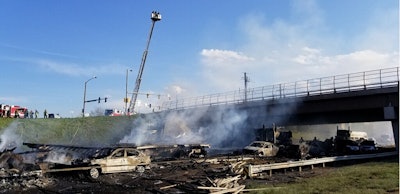 A fiery crash Thursday afternoon on I-70 near Denver that began when a truck driver lost control of his truck and plowed into stopped traffic resulted in four fatalities and sent six to hospitals with injuries, according to local police. There were 28 vehicles involved – 24 cars and four tractor-trailers.
The Colorado Department of Transportation has also said that the interstate is expected to remain closed through Friday and into Saturday as crews assess damage and repair pavement that was damaged by fires caused by explosions during the crash. The crash occurred near exit 263 west of Denver.
CDOT says westbound traffic is detouring using the off and on ramps at Denver West Boulevard, while eastbound traffic is detouring using 6th Avenue.
According to Ty Countryman with the Lakewood (Colorado) Police Department, 23-year-old Texas-based truck driver Rogel Lazaro Aguilera-Mederos was traveling eastbound on I-70 and lost control of his truck before coming up on backed-up traffic around 4:50 p.m. Thursday, April 25. He didn't stop and collided with several cars, Countryman said, and fires began as a result.
Aguilera-Mederos, who was driving a flatbed loaded with lumber, has been arrested and charged with four counts of vehicular homicide as a result of the crash. Countryman noted that there is no evidence of drugs or alcohol being a cause of the crash.