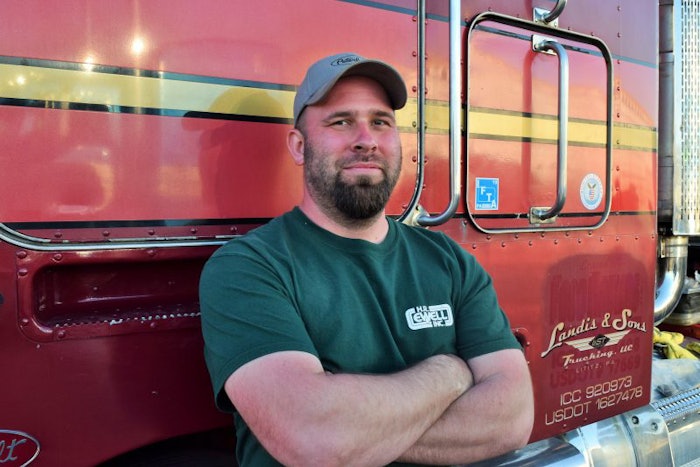 Previously in this series: J.D. Howard: Short hauls and frequent home time with Midwest asphalt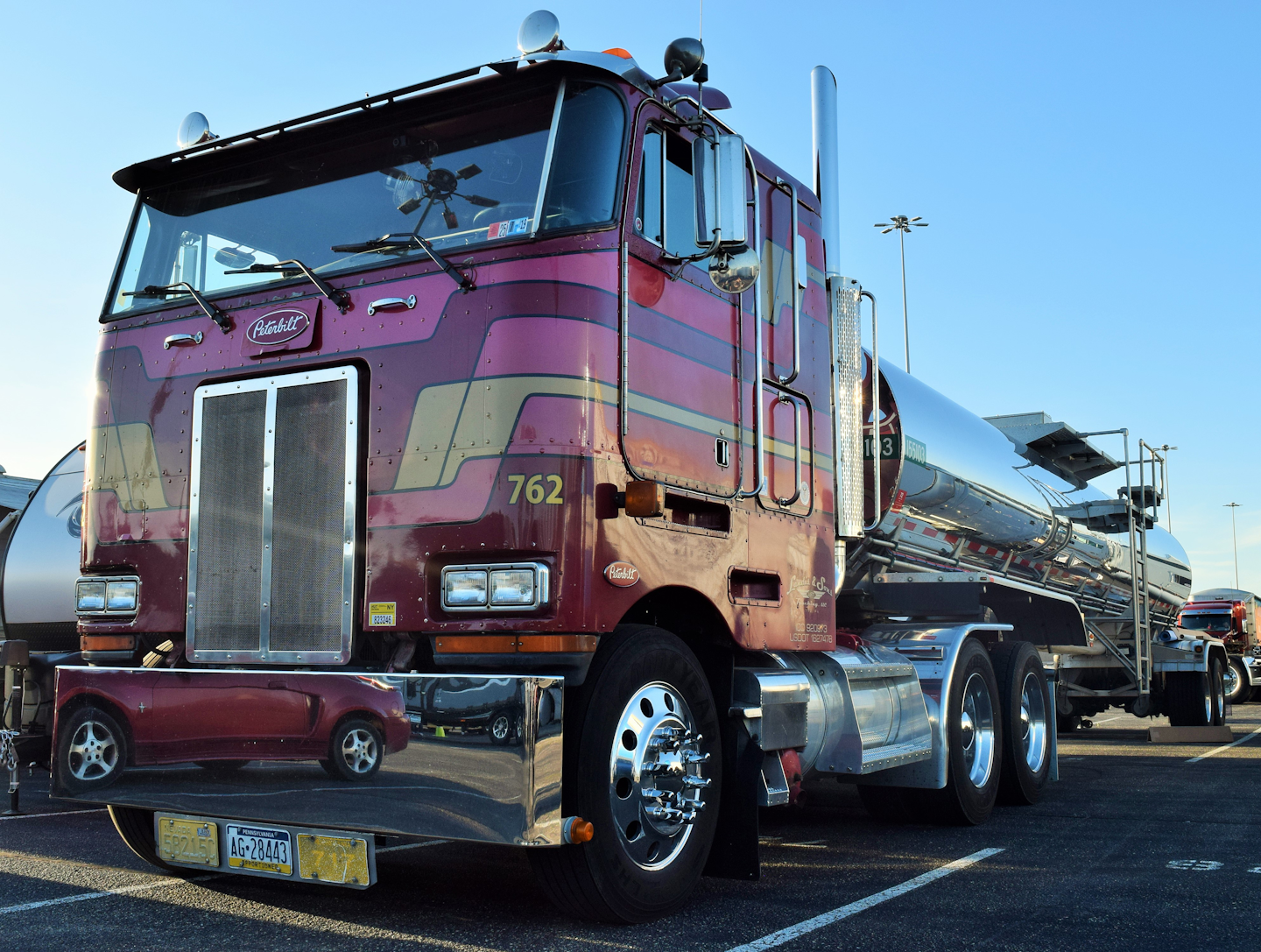 Independent owner-operator Mike Landis fell into his current dedicated hauling for a tank fleet based near his hometown in Lititz, Pennsylvania, while hauling reefer freight in a trailer he owned. A mutual associate recommended his Landis & Sons one-truck business years ago to the tank fleet. Now, "They almost dispatch me as if I was one of their trucks."
Landis pulls company trailers, 7,000-gallon mostly single-bore tanks hauling food-grade liquids such as sweeteners, syrups, chocolates, cocoa butters and liquid yeasts.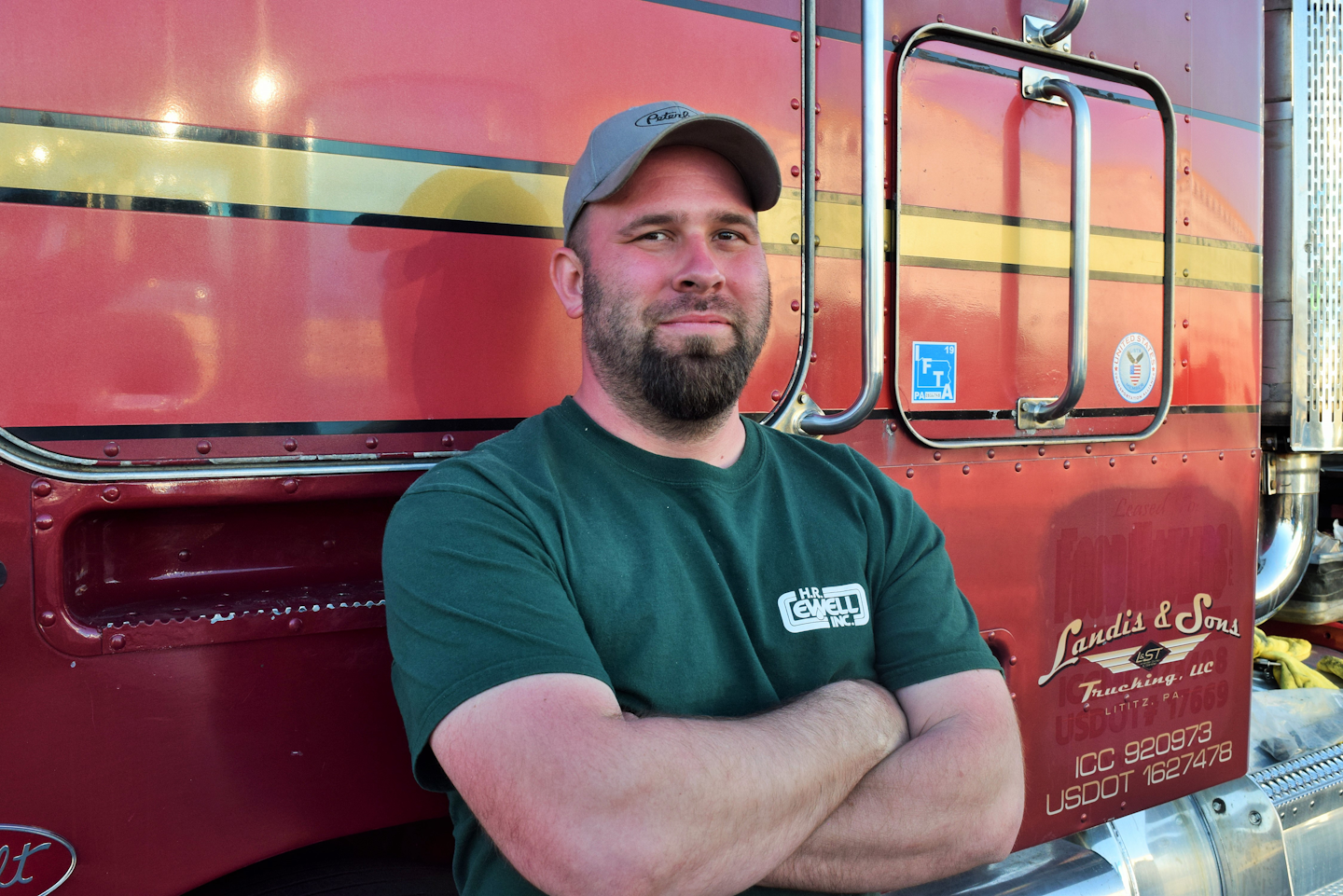 Ancillary equipment required in Landis' food-grade liquid-bulk operation are connecting hoses that run hot coolant from the truck to the trailer to maintain the warm temperatures required to transport some of the gooey cargo.
"You've got to watch it if you're hauling white chocolate," he says. "If you're stopped someplace and you leave it on, you'll burn it. Going down the road with the product sloshing" prevents overheating. As with many other types of food-grade liquid, the driver has to monitor its condition closely.
Since starting the tanker work, he's sold the reefer. "This is all I do," he says. "I trust them well enough that I make the money I need to make." Last year, the first full year full-time in the tank operation, he netted around $70,000, he says.
Perhaps most importantly for Landis, he's put together a weekly round that gets him home on weekends so he can watch his young sons' motocross racing. With his 1999 Peterbilt 362, he runs from a facility in New York City to Columbus, Ohio, then out of the fleet's terminal in Dayton, Ohio, to grab a load close by or in a neighboring state back.
His wait times due to required product-sampling procedures at receivers can be as different as Coke and Pepsi — literally, in this case. Delivering to a Coca-Cola facility in Columbus, Landis says, "you pull in, and that's the extent of my involvement."
At a Pepsi facility near Washington, D.C., however, "you pull in, walk into the building where their lab is" with paperwork. Then, "you walk out, go up top and get a sample, and give it to them. You hook your hoses up, and they tell you you're good to go once they test it. You unload the product," in his case using trailer-installed hydraulic pumps. "They sign your paperwork, you cap your hoses," and you're on your way.
His rates often are figured on a round-trip deadhead-back basis, though his deadhead miles are relatively few for a food-grade tanker hauler. Still, it's "not always an option to reload something back," he says. "A lot of food-grade products, you can't actually reload anything else after them, even with a washout, because of allergens."
In prior years, he often ended the week with more empty than loaded miles. "Today, it's the opposite," he says. "Even if it's a mediocre roundtrip, that ends up looking pretty well if it's rated for such, and you can actually be loaded part of the way back."
While Landis says he "did really well" with his reefer, he's earning enough, and having weekends with his boys has improved his quality of life immensely.