Thousands of gallons of liquid moving at highway speeds behind the headache rack can put the fear of God in a driver, says Dennis Holliday.
"A lot of guys get scared" thinking about it, Holliday says. They can't handle the careful driving required to stay safe in such an operation, especially if they're pulling a single-bore noncompartmentalized tank without partitions that can reduce the sloshing. "45,000 pounds of liquid, and it's moving, and it hits a brick wall — there's a lot of force behind that."
An experienced tank hauler, however, can "feel the liquid moving back and forth and guess when it's coming. You learn how to work that accelerator and change gears" to mitigate the forward force as well as increased rollover potential in curves.
Though it's not always required to sign on with a tank fleet – plenty of them offer training to new hires without the requisite experience – possession of such fine-tuned trucking skill is among the reasons tank haulers in an Overdrive survey last year reported above-average income levels.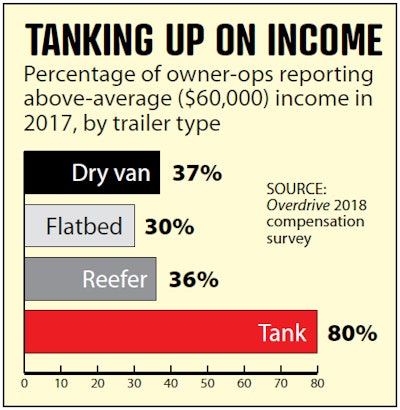 Income's not the only positive in the liquid-bulk space: Waiting time at facilities is often better than with other freight, says Holliday, who's leased to Heniff Transportation. He's got plenty to compare, having worked in compressed gas, moving van and dry van, among other applications.
"A lot of the stuff we haul is flammable, and most of the customers don't want you to touch it," he says, which minimizes involvement in unloading. "The biggest thing we have to wait on is tank washes" — unless the receiver doesn't have space to accept the delivery or a shipper hasn't formulated the product, a rare-enough occurrence.
Many tank wash locations have space leased by particular carriers and also function like a trailer terminal, Holliday says. In those locations, if you're not with the carrier leasing space there, you might get delayed in line.
Washouts can take three to four hours on the top end. Holliday says most thin solvents in his chemical haul operation are washed out in one to two hours. His fleet pays for the washing of its trailers, $200 to $400 or more.
When there's no clean empty trailer available, waiting for the wash becomes uncompensated time. Holliday believes that for owner-operators looking to lease, it's "best to be with a big outfit with lots of trailers" unless there's a dedicated product where washes aren't needed.
One reason tanker outfits often own their trailers is to ensure quality control, "making sure the trailers stay within required annual test dates and are refinished on a schedule," he says. Heniff's chemical tank trailers are mostly 7,000-gallon stainless-steel units, and it has a small number of 8,000-gallon aluminum trailers.
As with any niche haul, an owner-operator can earn more by owning the trailer, but a tanker costs far more than what's required for a basic dry box trailer. For top-of-the-line stainless trailers with thick insulation, multiple compartments and specialized equipment, it easily can be a six-figure investment.
Pricing varies with construction and features dependent on the niche, of which there are quite a few within the tanker world. Three are represented in the following profiles of Holliday and two other liquid-bulk owner-operators. Click through their pictures below for stories about them.