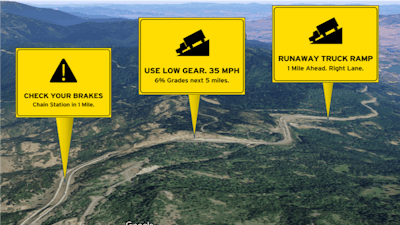 Trucking news and briefs for Monday, Sept. 16, 2019:
Drivewyze adds mountain corridor alerts to more than 100 locations
After adding grade warning notifications for parts of I-70 in Colorado last month, Drivewyze has now added the alerts to more than 100 locations in 20 states.
With the alerts, drivers using Drivewyze will receive in-cab alerts of upcoming safe locations to pull over for brake inspections and see prompts to gear low while showing suggested maximum speeds down steep grades. It also alerts drivers of upcoming runaway ramps.
The mountain corridor safety alerts are now available in Arizona, California, Colorado, Idaho, Maryland, Massachusetts, Montana, New Mexico, Nevada, New York, North Carolina, Oregon, Pennsylvania, Tennessee, Vermont, Virginia, Utah, Washington, West Virginia and Wyoming. All mountain passes included in the new feature have 5% or higher grades, Drivewyze says.
South Dakota stop becomes TA Express
The Coffee Cup Fuel Stop in Hot Springs, South Dakota, is now the second TA Express franchise opened by TravelCenters of America. The stop is located at the intersection of U.S. Highway 385 and U.S. 18. This is the second Coffee Cup Fuel Stop to be converted to a TA Express.
Amenities at the stop include four diesel lanes, 70 truck parking spaces, Caribou Coffee and Subway restaurants, two showers, laundry facilities and more.
A third Coffee Cup Fuel Stop converting to a TA Express in Summit, South Dakota, will open in October, with a fourth in Vermillion, South Dakota, being planned to open in November.
National Tank Truck Carriers accepting driver of the year nominations
The association of National Tank Truck Carriers has opened up nominations for its 7th annual Professional Tank Truck Driver of the Year Contest. The award honors the tanker drivers who serve the industry with the safest, most reliable transportation of liquid and dry bulk commodities. Application materials for the 2019-2020 Professional Tank Truck Driver of the Year Contest are available for download via this link.
The Professional Tank Truck Driver of the Year Program was established to recognize true excellence within the tank hauler community, to highlight drivers with a demonstrated and personal commitment to safety.