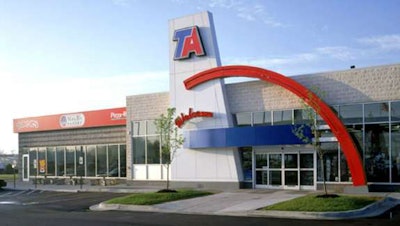 TravelCenters of America announced Wednesday the rebranding of a Steele, North Dakota, truck stop to TA Express.
The Coffee Cup Fuel Stop at exit 200 off of I-94 in North Dakota is the first of four Coffee Cup Fuel Stops being rebranded as TA Express locations. The other three are in South Dakota – Vermillion, Summit and Hot Springs.
The newly-rebranded truck stop in Steele offers 75 truck parking spaces, seven diesel fueling lanes, laundry facilities, three showers and more. It also offers Caribou Coffee, Pizza Hut Express and Subway restaurants.
TA says it plans to add a Cinnabon, five more driver showers and a three-bay TA Truck Service repair facility to the location.