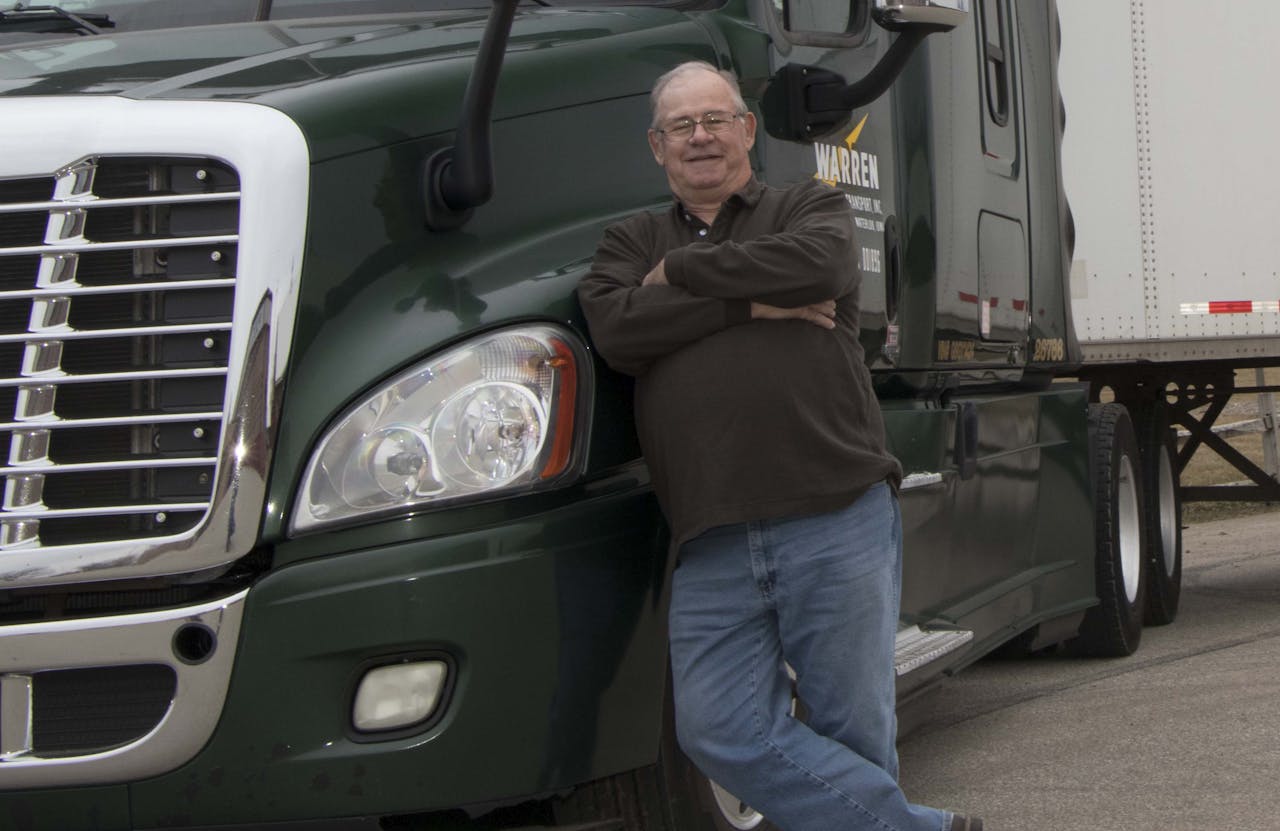 There was a time when mild-mannered Danny Jewell found himself occasionally trailed by spies. He wasn't hauling Department of Defense freight that might interest enemies of the state. It had nothing to do with carrying consumer electronics or certain pharmaceuticals that draw cargo thieves.
Jewell's spy-bait in those years around 1990 was John Deere's experimental farm equipment.
"They used to tell me all their competitors were out there with cameras to get pictures," he says. "I caught guys at night parked in the truck stop, trying to look under my tarp. They'd ask 'What's in there?' I'd say 'None of your business.'"
Less evident were the Deere security personnel who Jewell was told would follow him sometimes, partly "to make sure you weren't trying to get off and make something extra" by doing business with the spies. "But I've never really seen them."
Jewell's loyalty with those sensitive loads hardly compares with his loyalty to Waterloo, Iowa-based Warren Transport. His 6 million accident-free miles with Warren are indeed impressive, though not unheard of among the nation's safest longtime drivers.
What's perhaps stands out the most is that Jewell, 74, has devoted such a lengthy trucking career to only one fleet. He's driven 51 years with Warren, the last 47 as an owner-operator.
His safety record, business acumen and service to the industry and his community in Nebraska City, Nebraska, were factors that led to his being named 2018 Owner-Operator of the Year in March by the Truckload Carriers Association and Overdrive at TCA's annual meeting in Las Vegas.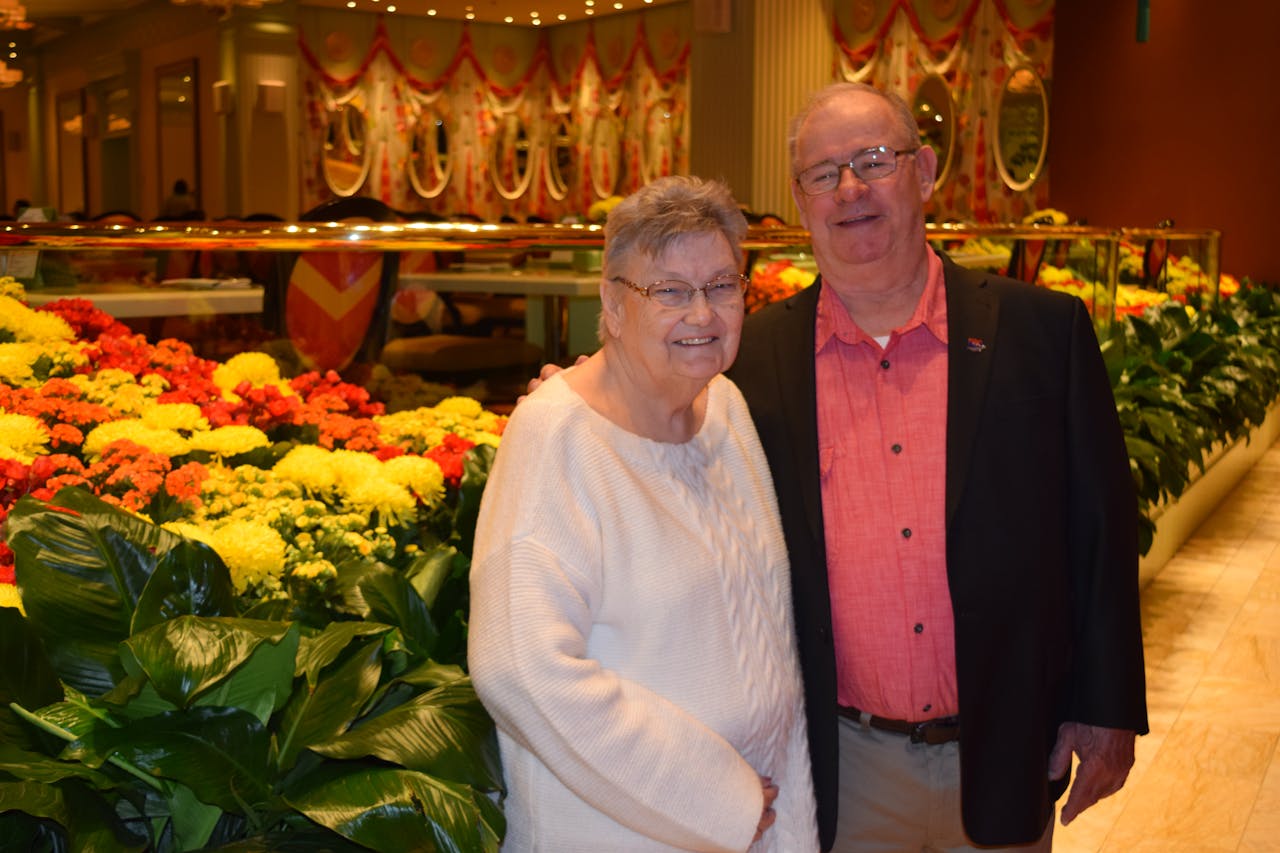 Dick Donnelly, who retired as Warren's president in February after 52 years of service, witnessed firsthand every bit of Jewell's half-century career. Donnelly started working at Warren while he was in college.
With his strong work ethic, then early training as a driver from some of Warren's best owner-operators, Jewell started out on the right foot, Donnelly says. "He knew and appreciated what it takes to be successful."
"His philosophy is 'Take the load that's available, and go,' " says Bruce Westemeier of Warren, who has dispatched Jewell off and on over the years. "He doesn't care if it's Minnesota or Wisconsin when there's three feet of snow on the ground."
Drivers new and experienced at Warren "all seem to go to him and ask him questions — maybe about the route they're going to take, or what they have to do to make sure the trailer's legal," Westemeier says. Dispatchers and other office staff also consult Jewell for his expertise.
"A few weeks ago, I was watching my dispatcher work," Jewell recalls. "I was really amazed at what they see and what they can do for you." He recommends drivers who don't trust their dispatcher find someone they do trust. "They're going to make you or break you."
Warren's dispatchers are better than ever at assisting in profitable load planning, he says. "A lot of times, they offer you loads before you get there," he says.
It's a far cry from 1968, when Jewell started with Warren and the company had only three or four dispatchers. Drivers on the road often had to rely on pay phones to get their next assignments.
Jewell became an owner-operator in 1972, buying a 1971 International cabover. He's driving a 2016 Freightliner Cascadia Evolution model and expects to take possession of a 2020 Cascadia Evolution in July.
"My theory is to start out with a new one and turn it every three to four years," he says. The warranty and lack of downtime help keep his wheels turning.
Preventive maintenance does, too. Jewell believes buying premium brand tires is well worth the extra cost compared to inexpensive ones. "I think my Michelin outwears them two to one," he says.
For most of his career, Jewell pulled open-deck trailers, hauling machinery, running about 100,000 miles a year. Now he's hauling feed nutrients and supplements in a dry van, doing 80,000 to 100,000 miles a year in an eight-state region and getting home on weekends.
Once he switched to dry vans and bought his aerodynamic Cascadia, he saw an immediate fuel improvement of a half-mile to a full mile per gallon. He averages 7 to 8 mpg now, which also reflects keeping his average top speeds down to 57 or 58 mph on two-lane roads and 66 to 68 on interstates.
"Some guys run 70 to 75 mph," he says. "They say they do better at that speed. I say believe all you want, but I can show you otherwise."
He's also found financial benefit in using an escrow account that Warren offers. It divert portions of settlements to fund truck maintenance.
"You never miss it once you start doing it, but it's there when you need it," he says.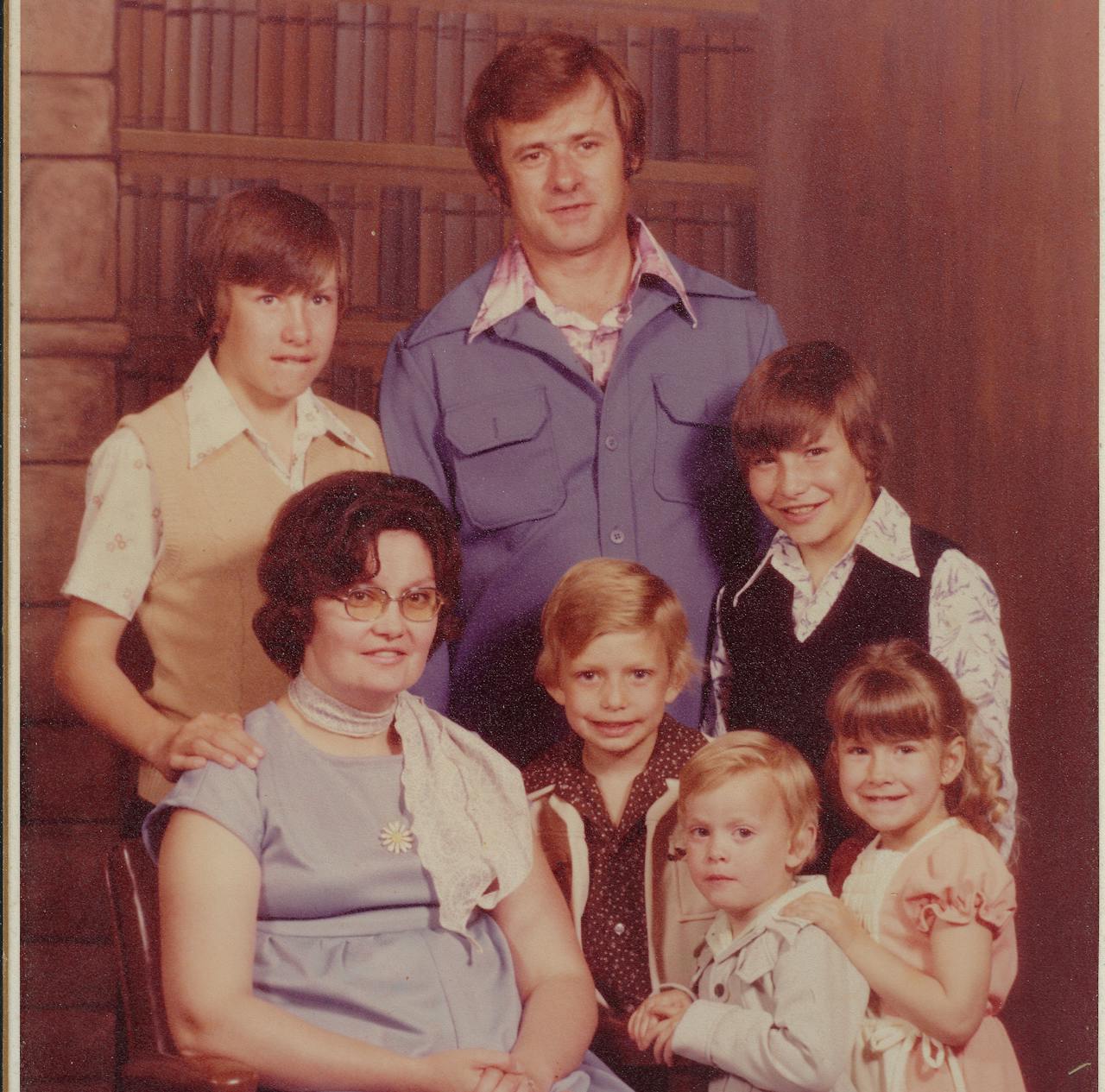 Jewell, who has earned about $43,000 annually in recent years, has been able to afford taking weekends off. That helps enable occasional camping or golf outings with some of his children and grandchildren.
In earlier years, he and his wife, Sharon, were able to take "sort of a paid vacation" by scheduling loads to certain areas and then having his wife and some of their five children follow in a car. Their destinations included Nashville; Albany, New York; Philadelphia; Washington, D.C.; and Florida. "Then I'd find a load and get us back to the house."
When their children were older, Sharon drove team with him. Starting in the mid-1990s, she drove consistently for most of 20 years.
Besides the family outings, weekend time at home also means time for First Christian Church, where he attends many of the activities. "He cleans dishes, moves tables," says Pastor Michael Schmidt. "He just jumps in and helps wherever he can."
Jewell "seems to have a really level head," Schmidt says. "He's willing to think about what's being said and tries to take it in and understand it in the right way."
Jewell also makes his truck available for youngsters at a preschool where his daughter teaches. "I want to get young people involved in trucking, or at least get them introduced to it," Jewell says. "It's a lot better than back when I started 50 years ago. You can pretty much pick what you want to do — be home every night, be home on weekends, or run two to three weeks."
Donnelly recalls an instance when Jewell's sense of service helped with a Warren customer. It was a financially strapped rancher who desperately needed heavy livestock equipment moved but couldn't afford a service to load them on Jewell's trailer.
Jewell "accomplished that without having to get a wrecker to load it in order to help these people," Donnelly  says. "He was the type of guy who always would and could be innovative enough so that he could accomplish the task. There would've been very few people in our operation that could have accomplished that job. He had a lot of savvy."
"I love making customers happy," Jewell said in a recorded interview shown at the TCA banquet where his honor was announced. "There's a sign in Minneapolis that says, 'Love God, love people,' and that is me. Without God, I would have nothing."         
Preventive maintenance for sleep apnea 
"You know you're obese."
That was the wakeup call Danny Jewell recalled getting from his doctor March 6 when he got his DOT physical.
Even though he'd recently lost about 12 of the 245 pounds he'd been at for years, she informed him he needed to lose 25 more in three months, or he'd need to get tested for obstructive sleep apnea. Jewell took the warning seriously and changed his diet and exercise habits. Less than a month later, he'd lost 12 more pounds.
Now Jewell starts the day with a small portion of Cheerios or a protein bar or V8 juice, and keeps his snacks during the day light and healthy. The only full meal of the day is a supper chosen from CDLMeals. The service sends seven healthy meals for $77.
"This stuff is all-organic, gluten-free," he says. The only required preparation is microwaving. "I never dreamed anything could be that good."
Jewell's trying to maintain a daily one-mile hike by walking around his tractor-trailer 40 times once he's parked. When he's home, he adds other exercises, including use of an exercise bike.