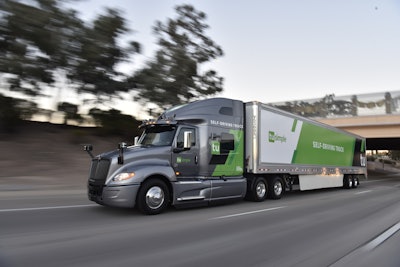 The United States Postal Service (USPS) has contracted with autonomous truck startup TuSimple on a series of 1,000-plus mile trips, hauling mail between the Postal Service's Phoenix, Ariz. and Dallas, Texas distribution centers.
Equipped with a network of lidar, radar and cameras that enable SAE Level 4 autonomous driving, each truck will also have a safety engineer and driver on board to monitor vehicle performance and to ensure public safety for the duration of the five round trip, two-week pilot test that kicks off Tuesday, May 21.
TuSimple Head of Business Development Vivian Sun says teams of drivers will also be staged along the routes for coordinated swaps so all drivers remain hours of service compliant. Even though the humans are not actively driving the trucks once they reach the highway, they are still subject to HOS regulations, including maximum daily driving times and mandated rest breaks. Among the goals of the test, Sun says, is to push the autonomous-enabling equipment beyond the legal capabilities of its human driver to cut delivery turn times, so trading out drivers for another with a fresh set of hours will be necessary during the trials. Sun says the only planned stops for the trucks are for fuel and to facilitate the driver change.
"In the future, the benefit of the self-driving truck is that some of this driver swapping won't have to happen," she says, adding the multi-truck test run is also a stress test for the TuSimple platform. "Running a solo truck a couple hours is a different animal than running multiple trucks over multiple hours."
In advance of the mail run testing, TuSimple had to develop high definition maps by pre-driving the route multiple times in a vehicle equipped with sensors that collected data from point-to-point about the terrain.
The freight that flows along the I-10 corridor accounts for 60 percent of the total economic activity in the U.S. and, citing an already strong customer demand for runs between Arizona and Texas, TuSimple expects it to be a central route for the company. TuSimple has several prototype vehicles currently making for-hire deliveries and plans to expand its fleet to 50 by year's end.
This new route is a milestone for TuSimple as the company scales its autonomous operations outside Arizona and marks its autonomous debut into Texas.
"This is a very complex and comprehensive route," Sun says, adding that TuSimple hopes to glean large data sets while testing the functionality of the low-light camera system the company debuted in March. "One of the things we have to conquer is we have to do very well during night driving and early mornings when the sun is very low and shining directly into the camera … and any situations when light situations vary."
The low-light camera system – affixed to a truck traveling from Dallas to Phoenix and another from Phoenix to Dallas – will face various lighting challenges as it transitions from urban roads with plenty of street lights to desert highways that feature few to none.
"If we can handle this complex issue," Sun says, "we can do a lot more in the future."
Sun says long-haul routes with short turnaround times, like the 22-hour mail drop, are suited for technologies that enable driverless trucks because they are normally accomplished by team drivers – a population that is challenging to recruit due to overnight driving requirements and the need to share close quarters with another person.
The Postal Service is exploring the feasibility of utilizing autonomous delivery vehicle technology to reduce fuel costs, increase safe truck operation and improve its fleet utilization rate through longer hours of operation.
Sun says the both the truck and the trailer will be de-identified for the duration of the test but eagle-eyed passers by will notice the company's camera system mounted along the truck's visor.