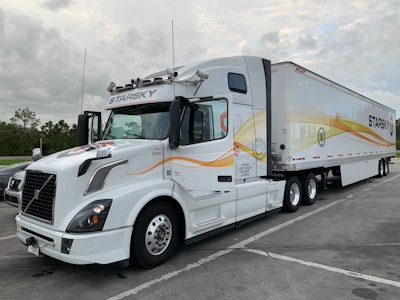 Earlier this month, along the Florida Turnpike near Yeehaw Junction, a Volvo VNL retrofitted with autonomous driving capabilities by upstart Starsky Robotics became the first rig to drive a completely unmanned run at highway speeds on a public road alongside traffic.
A remote driver sitting behind a bank of screens 200 miles away navigated the VNL, towing an unloaded trailer, onto the highway from a rest stop before handing control over to the truck itself — which used an onboard suite of sensors and software to navigate the 9.4-mile run.
Starsky's strategy for autonomous trucking includes a human driver that handles the first and last mile from a remote location, while letting technology – like software and a combination of radar and camera sensors – handle the highway miles in between.
Stefan Seltz-Axmacher, founder and CEO of the San Francisco based start-up, boasted that the company bested its larger competitors with the unmanned run. "We beat Waymo. We beat all the big OEMs. We've beat just about the whole industry," he said.
"We've been wholly focused on getting the safety driver out of the truck," he added, noting all prior autonomous truck testing had included a driver onboard to monitor the truck and its systems, ready to assume control at any given moment.
In the case of the June test run, the remote driver started the truck from a stopped position at a rest area and navigated on to the feeder road toward the highway. Once the truck reached 30 mph – and flanked by lead and follow spotter vehicles – the rig piloted itself, relying on a lane keep assist platform and adaptive cruise control.
Once traffic next to the truck passed, the remote operator initiated right lane change and simply monitored the truck for the next 9 miles at 55 mph before slowing the unit and having it exit the highway. He then made a U-turn and brought the truck to a stop.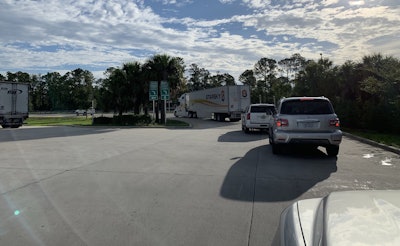 Starsky has spent the last year conducting similar trials, Seltz-Axmacher says, in order to set last week's test up for "an incredibly high-level of statistical certainly that everything would go smoothly." The company's test team, he adds, had been driving the route heavily for the last two months with a driver onboard.
"The only thing we really learned [during the June 16 test] is that our truck really works without a person in it," Seltz-Axmacher says, noting the run was the culmination of a year's worth of work validating the system for just such a test.