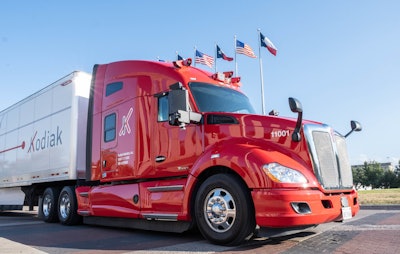 Self-driving start-up Kodiak Robotics recently announced it has begun commercial deliveries in Texas with a driver behind the wheel. The milestone comes 16 months after the company was formed.
Mountain View, Calif.-based Kodiak also announced it will be supporting its growing testing and freight operations from a new facility in North Texas and an office in the Dallas-Fort Worth-area.
"In just over a year, we've gone from founding Kodiak to putting our trucks on the road and hauling freight for customers. Making such rapid progress wouldn't be possible without our strong, experienced team, who've been working with autonomous vehicles since the early days of the industry, "said Don Burnette, CEO and Co-Founder of Kodiak Robotics. "As industry veterans, we've seen where self-driving technology has fallen short, and have a clear vision for how to make it work and work safely."
Kodiak operates as a carrier, using its autonomous platform for operation on "middle mile" highway routes.