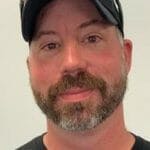 Oklahoma City-based truck driver Jim Higginbotham has been named a Highway Angel by the Truckload Carriers Association after he stopped to help after witnessing a two-car crash that ejected one of the motorists.
On May 3, Higginbotham was travelling along Highway 75 out of Romona, Oklahoma, with an oversized load when he saw an accident up ahead. Two small cars had collided, one t-boning the other. As he got closer, he saw a man lying on the pavement. Higginbotham changed lanes to avoid hitting the man, then pulled to the shoulder and stopped.
He then ran back to the scene, worried that oncoming traffic might hit the injured man. Higginbotham said it looked like the other driver had been southbound on the divided highway and had pulled into a turnaround and attempted a U-turn, but ended up t-boning the man's northbound car. The force of impact ejected the man, who was now lying unconscious and seriously injured.
A few minutes later, an off-duty volunteer firefighter came upon the scene and stopped to help the man. Higginbotham then ran to the other driver, who was conscious but dazed, confused and bleeding. He stayed with her until emergency personnel arrived 20 minutes later.
For his willingness to help, TCA presented Higginbotham with a certificate, patch, lapel pin and truck decals. His fleet, Stone Trucking Company, also received a certificate acknowledging their driver as a Highway Angel. EpicVue sponsors TCA's Highway Angel program.