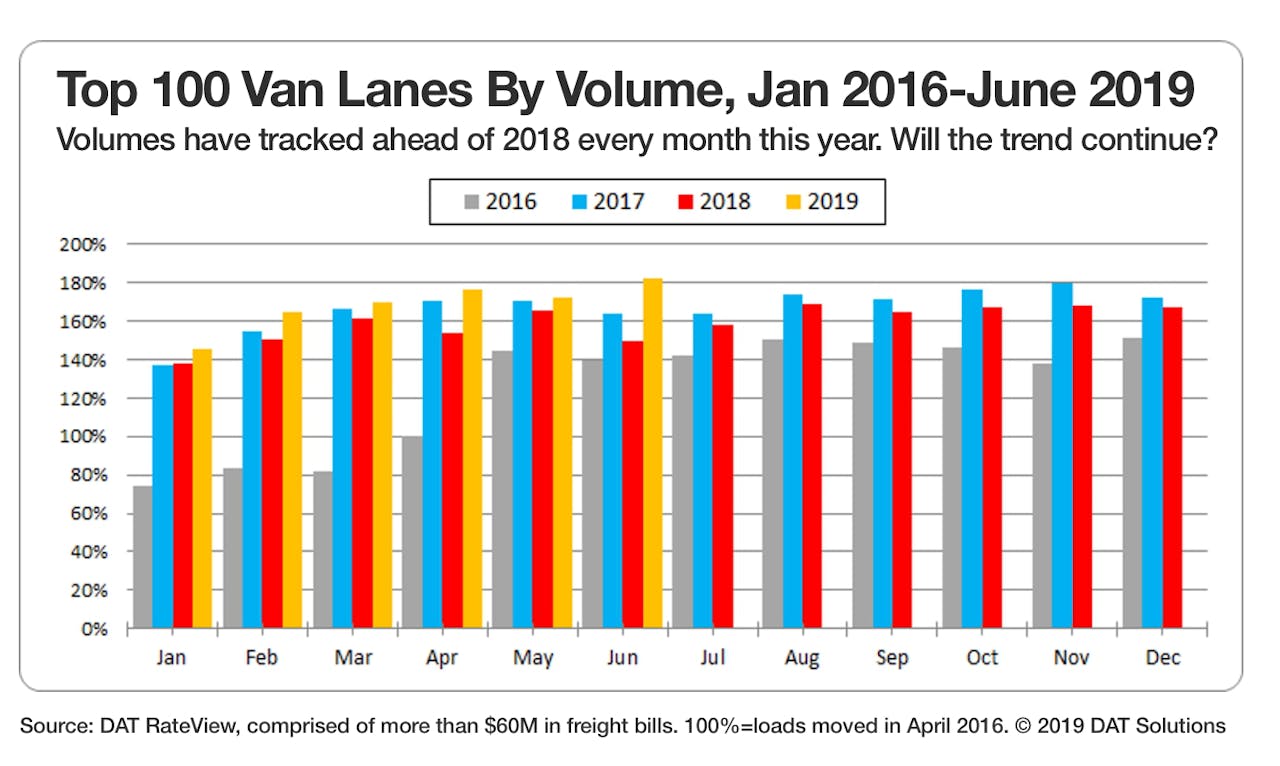 Spot truckload rates for van and refrigerated freight hit their highest national averages since January during the week ending June 23, according to data from DAT Solutions, which operates one of the country's largest load boards.
That's despite another increase in truck postings and a decrease in load postings — supply and demand pressures that generally put downward pressure on rates. Truck posts ticked up 3.5 percent from the prior week; load posts declined 2 percent.
National average spot rates, through June 23:
*Van: $1.90/mile, 11 cents above the May average
*Reefer: $2.25/mile, 10 cents higher
*Flatbed: $2.30/mile, 2 cents higher
Trend to watch: Is June a tipping point?
The national average van load-to-truck ratio fell from 3.0 to 2.6 last week, but freight availability on the top 100 van lanes on DAT RateView remained steady. Combined volume on these lanes is up 22% compared to the same period in 2018, and freight volumes has been stronger in those lanes in each month so far this year, DAT says.
Typically, says DAT, freight slumps in July in the spot and contract markets, and that slowdown usually extends to mid-August. But current freight conditions do not indicate a slowdown is near, says DAT.  The average spot van rate strengthened out of major West Coast ports — Los Angeles ($2.35/mile, up 5 cents) and Stockton, Calif. ($2.06/mile, up 5 cents), but volumes from both markets were softer week to week, with DAT suspecting the slow down is due to a "winding down of supply chain managers moving freight to beat possible tariff increases."
Market to watch: Las Vegas flatbeds
Spot flatbed freight volumes increased 3% last week and the national average flatbed load-to-truck ratio was marginally higher compared to the previous week. Raleigh, North Carolina, stands out for having gained 11.6% in the average outbound spot rate during the last month and hitting $2.94/mile last week. Outbound flatbed volumes were up 41% there as well.
But outbound flatbed loads from Las Vegas were a major standout, where flatbed volumes surged 51% last week and rates jumped on several key lanes: Las Vegas to Sacramento, up 55 cents to $2.92/mile; Las Vegas to Phoenix, up 44 cents to $3.15/mile; Las Vegas to Los Angeles, up 30 cents to $2.91/mile.