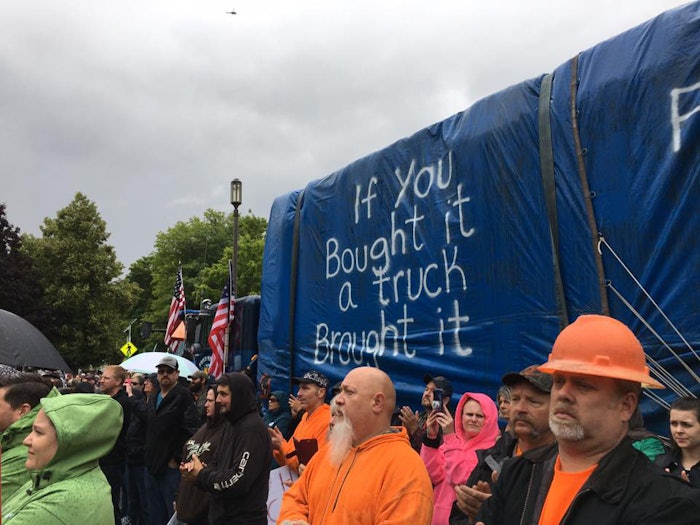 A convoy of around 300 semi-trucks passed by our cameras this morning at the 6th Street on-ramp in Lane county.Supporters of Republicans who have walked off the Senate floor are gathering for a rally at the State Capitol this morning.

Posted by KVAL News on Thursday, June 27, 2019
Hundreds of truck drivers – many from the logging industry – reportedly descended on the Oregon Capitol on Thursday to protest emissions control legislation in the state's Senate.
The truckers were protesting a cap-and-trade bill, House Bill 2020, that would place a cap on greenhouse gas emissions, and businesses that produce more pollution would be required to purchase tradable "credits" or "allowances" for every ton of greenhouse gas they emit.
The Oregon Trucking Associations says the bill would increase business costs for trucking companies, as well as increase fuel prices in the state.
The bill passed the Oregon House on June 17 and has been with the Senate since. According to a report from The Oregonian, 11 Republican senators walked out of proceedings on June 19 and have yet to return to prevent a quorum that could lead to the bill passing the Senate. Oregon has 30 senators, and state law requires 20 to be present in the chamber to do business. A Fox News report states that the Oregon legislative session ends Sunday, June 30, and any bills not passed by that date will die.
The Salem Reporter says the truckers were also protesting House Bill 2007, which would ban the titling of certain trucks with diesel engines of a certain age in the greater Portland area – Multnomah, Clackamas and Washington counties. Log trucks, farm tractors and more would be exempt from this law, however.
Some photos and videos from the protests can be seen here from the Salem Reporter, as well as below:
Hundreds of truckers rolled into the streets around the Oregon Capitol on Thursday morning to protest the climate bill that has divided the Oregon Legislature largely along party lines. https://t.co/d0af1fx2us pic.twitter.com/Ih6HwvDfuK

— The Oregonian (@Oregonian) June 28, 2019