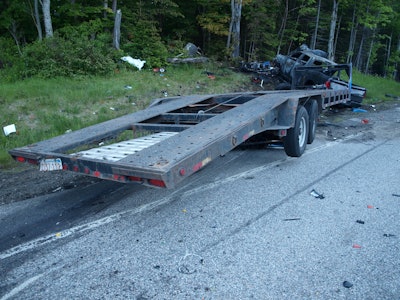 In the wake of a crash involving a commercial driver's license holder in New Hampshire last month that left seven motorcyclists dead, Massachusetts Gov. Charlie Baker has proposed legislation to tighten CDL standards in the state.
According to a USA Today report, the suspect in the crash, 23-year-old Volodymyr Zhukovskyy, is a Massachusetts CDL holder with a checkered driving and arrest history. The report states that the Massachusetts Registry of Motor Vehicles has acknowledged since the crash that Zhukovskyy's license should have been revoked in May following a drunken driving arrest in Connecticut.
In response, Gov. Baker sent a bill to the state legislature titled, "An Act to Promote Commercial Driver Safety." The legislation, if passed, would:
Require CDL applicants to have a history of good driving and would be ineligible for a CDL if they have been suspended or disqualified from driving at any time in the last three years.
Double the suspension period for CDL holders who commit two serious traffic violations in a three-year period from 60 days to 120 days .
Double the suspension period for CDL holders who commit three serious traffic violations in a three-year period from 120 days to 240 days.
Require drivers to provide next-day notification to employees and the Registry of Motor Vehicles if they are convicted of violating any state or local traffic law, or if they have their right to operate a vehicle revoked or suspended by any state.
Require companies hiring commercial drivers to sign up for the state's Driver Verification System, a free service that provides automatic notification to employers when an employee's CDL status changes.
Update several of the state's CDL provisions to meet minimum federal requirements, including making texting while driving a commercial vehicle a serious traffic violation, requiring hands-free operation of electronic devices while driving a commercial vehicle, and a lifetime ban for a driver who uses a commercial vehicle to commit a crime involving human trafficking.
The crash that sparked the bill occurred on June 21 when Zhukovskyy, who lives in West Springfield, Massachusetts, collided with a group of motorcyclists while driving a 2016 Dodge 2500 with a flatbed trailer.
According to a National Transportation Safety Board preliminary report released Wednesday, July 24, Zhukovskyy crossed the double-yellow line on Highway 2 in Randolph, New Hampshire, and collided with the oncoming motorcycles. A fire broke out after the crash, NTSB says. The agency says that while Zhukovskyy held a CDL, the truck he was driving that day had a gross weight rating of less than 26,001 pounds and did not require a CDL. However, the carrier, Westfield Transport, was subject to federal regulations including hours of service and drug and alcohol testing.
Zhukovskyy was driving for Westfield, an eight-truck operation based in West Springfield, Massachusetts. The motorcyclists were part of the Marine Jarheads Motorcycle Club, a New England-based group that includes Marine veterans and their spouses. Zhukovskyy has been charged with seven counts of vehicular homicide.
According to FMCSA data, Westfield has had seven vehicle out-of-service violations and 12 driver out-of-service violations in the last two years. Massachusetts Attorney General Maura Healey announced her office is opening an investigation into Westfield Transport over its role in the crash.
According to USA Today, Zhukovskyy had been involved in a rollover crash earlier in June in Texas when he flipped a Mack car hauler he was driving. Police said there were no injuries or signs of intoxication in that crash, the report states. Earlier in the year, in February, Zhukovskyy was arrested in Texas when police found drug paraphernalia on him at a Denny's restaurant following a disturbance call. He also failed a field sobriety test in May in Connecticut and was arrested for DUI, the report adds.