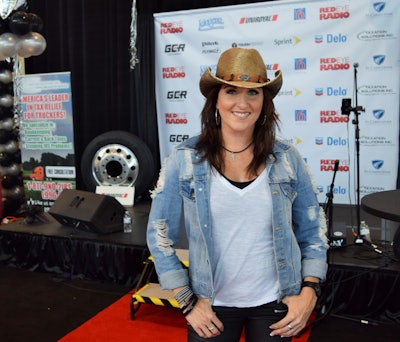 As will be no surprise to regular readers and folks getting ready for the Great American Trucking Show next week, Aug. 22-24 at the Kay Bailey Hutchison Convention Center in downtown Dallas, Australian singer-songwriter Jayne Denham is releasing the "Black Coffee and White Lines" single in the U.S. attendant to her GATS appearances. (Hear the track at the top of our growing "Music to truck by" playlist via Spotify below.) Denham, not shy about her ties to down-under trucking, also has been forging connections to the North American industry the last few years. A contest attendant to her Friday, Aug. 23, performance at the Red Eye Radio stage at GATS, for instance, involves associates among past featured truckers in the "Ice Road Truckers" TV series.
We took some time with the artist this week to get a little more perspective on what she's got planned for this U.S. trip, which follows some extensive time spent writing and recording in Nashville in prior years, which you can hear more about in this 2018 Overdrive Radio podcast edition.
Much of those U.S. efforts is baked into the sonic mix of her "Calamity" record, which also features the new single, a definite celebration of heavy-duty commercial work on the highways.
Overdrive: What's the plan for the "Black Coffee and White Lines" single release here in the U.S.?
Jayne Denham: I always knew it would be a single but never dreamed I would release and shoot the video clip here in the U.S. A few years back at GATS I met Lisa Kelly and Carey Hall from the "Ice Road Truckers" show and we all got on well, so when I was asked by a friend here in the industry if I would like him to ask if any of the IRT would like to feature in the video for "Black Coffee & White Lines,' my answer was … Heck yes! So I am excited to say: Lisa Kelly, Carey Hall, Reno Ward and Maya Sieber will feature [in video work for the single on this trip]. It sure is going to be fun, I cannot wait to start filming soon.
Q: Where'd this particular song come from? Any particular story there about the inspiration?
Denham: I wrote this song with the wonderful [songwriter] Jerry Salley, [Salley is a Nashville-based writer and has written songs recorded by the links of Toby Keith, Patty Loveless, Brad Paisley, Loretta Lynn and others.] Writing a song with me comes with this brief "do you know anything about truckin'?"
Denham spoke to this phenomenon in our 2018 podcast talk with her following an appearance at the Buckeye Invitational Truck Show.
Denham: And let me tell you Jerry got my heart and helped me write what I feel is the heart of a driver who just loves the road and the lifestyle it brings. I got quite emotional recording this song, as I felt it says what I hope all drivers feel and want to say.
Q: How's the "Calamity" record been received since we last talked?
Denham: It has been a crazy ride both here and in Australia. "Stacks," the first single and a truckin' song, took off like a freight train out of Texas. It's had incredible streaming numbers around the world. It hit the top 10 on radio in Australia and the video appeared on the Country Music Channel. The song "Calamity" also did just as well on the charts.
But then something very cool and unexpected happened. I did a duet with a friend of mine, Troy Kemp, called "Hung up on You" written here in U.S. It got us a No. 1 on radio [in Australia], No. 1 video and a Golden Guitar nomination, equivalent to your CMA Awards. Then it reached a million streams on iTunes and Spotify in six months. So "Calamity" kept my career moving forward and to now have the final single from the record out is great.
Q: What's next for you in terms of recording and any new releases?
Denham: Right now the focus is on "Black Coffee & White Lines" and the upcoming filming of the video clip, but I always have plenty of new song ideas rattling around in my head… . And meeting people often trigger more ideas. So be very afraid, GATS. If we meet and chat you never know. A song may appear on my next record that you inspired.