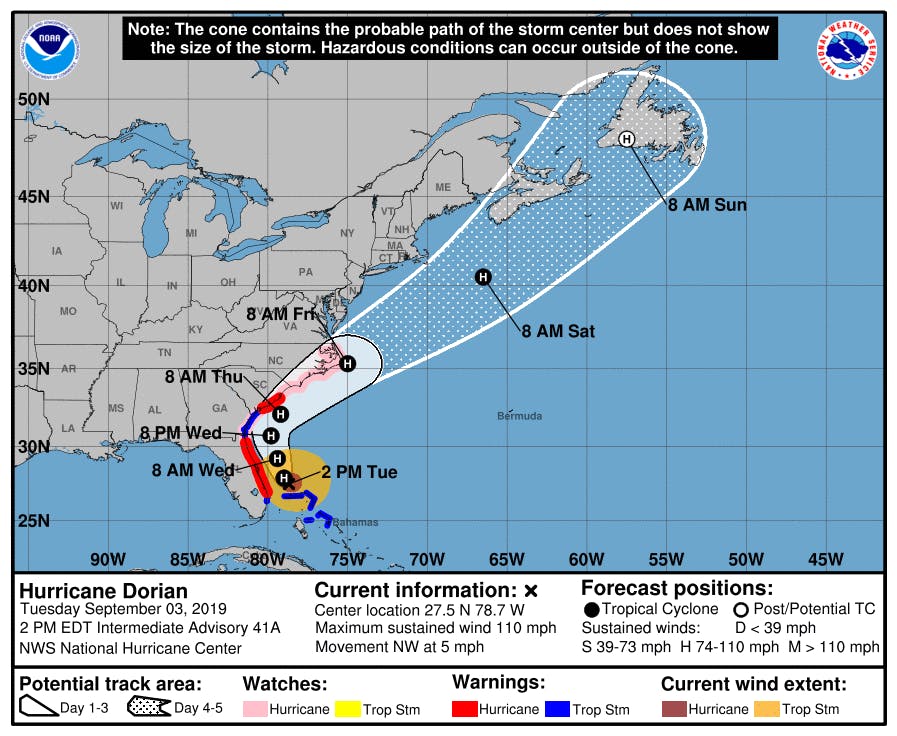 Update – Tuesday, Sept. 3, 2 p.m. Central: The Federal Motor Carrier Safety Administration issued a notice ahead of Hurricane Dorian that it will not be enforcing Temporary Operating Authority Registration fees against carriers seeking temporary authority to aid in storm relief.
The waiver of the fees will continue until the end of the agency's regional emergency declaration, which will expire at the end of the emergency or Sept. 28, whichever is sooner, unless the declaration is extended.
As of Tuesday afternoon, Dorian is expected to impact Florida's east coast late Tuesday through Wednesday evening before continuing up the Georgia and South Carolina coasts Wednesday night and Thursday.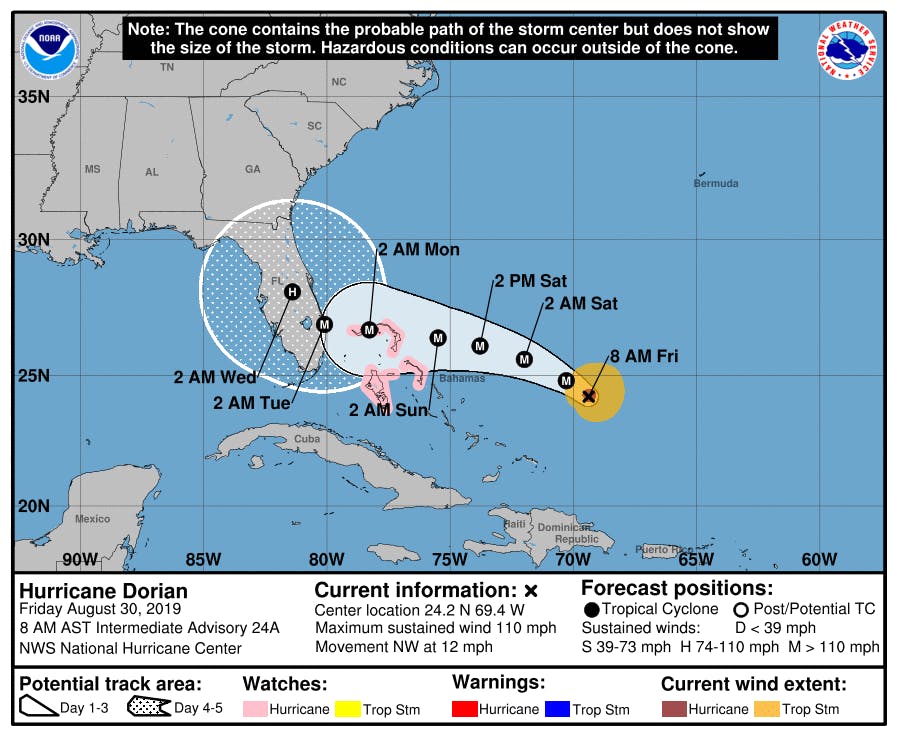 Update – Friday, Aug. 30, 8 a.m. Central: The Federal Motor Carrier Safety Administration has issued a regional emergency declaration that includes 10 states and two U.S. territories ahead of Hurricane Dorian's landfall. Truckers in the included states providing direct relief to impacted areas are exempt from hours of service regulations.
States and territories included in the declaration are: Alabama, Florida, Georgia, Kentucky, Louisiana, Mississippi, North Carolina, South Carolina, Tennessee, Virginia, Puerto Rico and the U.S. Virgin Islands.
Truckers can use the exemption as long as they are hauling supplies, goods, equipment and fuel into the affected areas. Direct relief stops when a driver or truck is used in interstate commerce to transport cargo or provide services not directly supporting the emergency relief effort, FMCSA says.
Dorian increased to a Category 2 storm overnight Thursday and is still expected to become a Category 4 by the time it makes landfall on Florida's east coast at some point Monday.
Original story follows: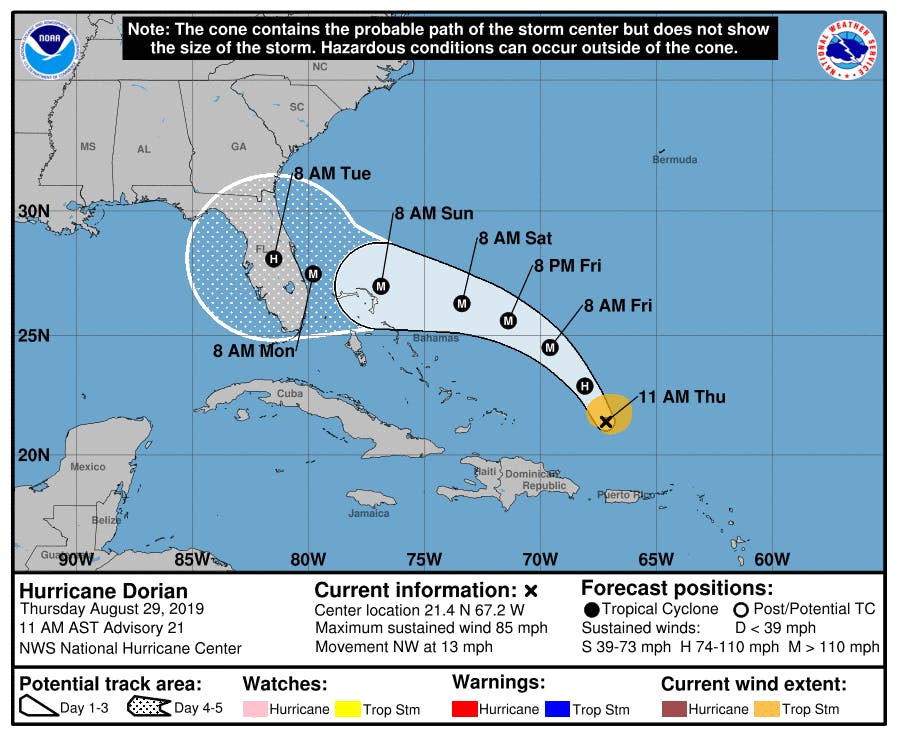 Florida Gov. Ron DeSantis on Wednesday, Aug. 28, issued an emergency declaration ahead of Hurricane Dorian, temporarily suspending hours of service regulations for truck drivers providing direct assistance in the aftermath of the storm.
As of Thursday afternoon, Dorian is expected to make landfall on the eastern Florida coast sometime Sunday night or Monday morning as a Category 4 storm, according to AccuWeather.
The emergency declaration is effective in 26 Florida counties – Baker, Bradford, Brevard, Broward, Clay, Duval, Flagler, Glades, Hendry, Highlands, Indian River, Lake, Martin, Miami-Dade, Monroe, Nassau, Okeechobee, Orange, Osceola, Palm Beach, Putnam, Seminole, St. Johns, St. Lucie, Volusia and Union.
As long as the declaration is active, truckers engaged in specific aspects of emergency relief, including direct assistance for the immediate restoration of essential services (electrical, sewer, water and telecommunications) or essential supplies (food, water, medical supplies and fuel), are exempt from hours of service regulations.
The declaration is effective through Oct. 28 unless it is extended or canceled.