Previously in this series: When the sun bites back: Skin cancer risk, prevention for drivers
One of the best protective measures against excessive exposure to UV radiation is routine use of high-SPF (30-plus) sunscreen on any exposed skin — the face, neck, hands and arms for most drivers. Few drivers report regular sunscreen use while hauling. Just 6% of readers use such products routinely, though 10% reported filming side windows with UV-protecting layers to block nearly all UV light.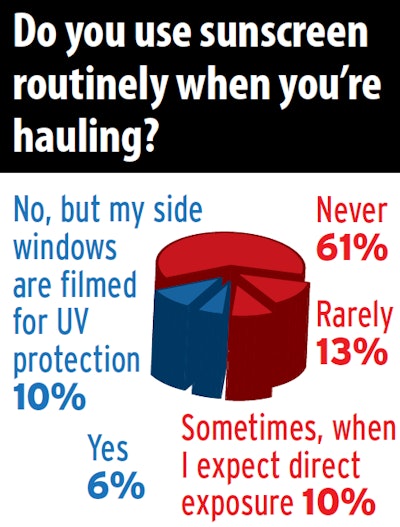 Aftermarket window film manufacturers such as Solar Gard and Madico Window Films have truckers among their clientele, particularly since 2012, when the Federal Motor Carrier Safety Administration clarified window-film guidance for commercial vehicles.
At the time, a majority of truckers thought that window films were banned outright. However, in response to a request for clarification of the issue from the International Window Film Association, FMCSA said that it's OK to "install a protective window film with over 70% net Visible Light Transmittance (VLT) on the side windows of trucks weighing over 26,001 pounds."
Advances in film technology now make it possible for a commercial hauler to install films that are clear in appearance but that nonetheless block 99% and more of all UV radiation, say Madico and Solar Gard representatives.
Window film manufacturer representatives note you're likely already getting good protection from UV radiation from the windshield, given how they're required to be made with laminated rather than basic tempered glass.
However, a look at window-glass specifications for the Cascadia, shared by a Daimler engineer, show that the cab's side windows generally allow less UV light into the cab than the standard windshield. The engineer also noted that glass manufacturers have developed some processes that, for laminated-type glass in windshields, do get closer to full UV blocking. Other truck makers did not respond to queries about this subject from Overdrive.
Whatever the case for windshields, it likely doesn't change the reality for skin damage and cancer risk from side window exposure, says Steve Wood of Madico. "Most skin damage" for truckers, he says, is from "sitting so close next to the window."
FMCSA's 2012 clarification on regulatory guidance around window films does not apply to windshields, as far as the National Highway Traffic Safety Administration is concerned.
The Ultragard product in 2012 was estimated to come at a per-truck cost of $99 to $200 installed, depending on the configuration.
Madico and Solar Gard have dealer representatives around the country. High-SPF UV protecting sunscreen is available at most pharmacies.
The Skin Cancer Foundation recommends water-resistant sunscreen of SPF 30 or higher, applied 30 minutes before sun exposure and reapplied every couple hours. And, stating the obvious, the foundation says nothing beats "seeking shade, covering up with clothing" and the like.