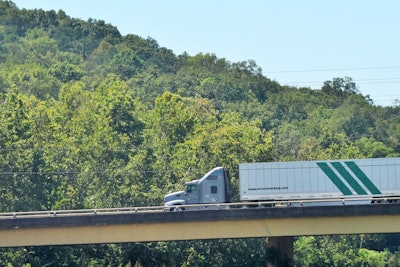 Former trucker Joe Jolly, based in Kansas, started trucking in the early 1980s when the risks of frequent exposure to the sun's ultraviolet radiation wasn't quite as well understood as it is today. That goes for drivers, too, though one might assume protection inside the cab. Fact is, though windshields built under current guidelines do contain substantial UV radiation protection, side windows generally don't protect as well. Among the give-or-take 2 million skin cancers diagnosed annually in the United States, as I wrote several years ago, the Skin Care Foundation has shown that well more than half occur on the left side of the body — the side, of course, most exposed to solar radiation behind the wheel.
In today's edition of Overdrive Radio, 58-year-old former driver Joe Jolly, following removal of a small spot of an aggressive type of skin cancer from his upper lip, offers a word of caution for younger drivers. In a nutshell, you might say the sun is quote "trying to kill you" from the day you're born, as Joe puts it. Anything you can do to protect yourself, whether with UV-blocking sunscreen or window films, from damaging ultraviolet radiation while trucking over the road today will pay dividends in later years. Take a listen:
Also in the podcast: "Long Haul Paul" Marhoefer walks through us through his recording session in Muscle Shoals last week. There, he laid down an original track that will also serve as the theme for a new special-edition podcast we've been working on.