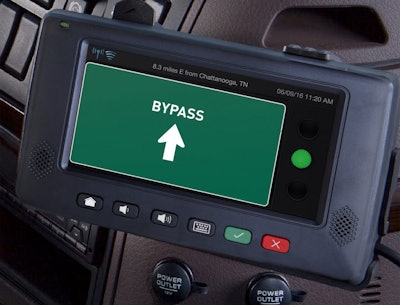 Trucking news and briefs for Wednesday, Nov. 6, 2019:
Drivewyze adds 10 stations in Oregon to service network
Truck fleets and operators using Drivewyze PreClear weigh station bypass service will now receive bypasses at 10 locations in Oregon.
The new Drivewyze sites are located in Woodburn (north and southbound), Booth Ranch (north and southbound), Ashland (north and southbound), southwest of Juniper Butte (north and southbound), Wyeth (westbound), and Rocky Point (westbound).
The Woodburn, Booth Ranch, and Ashland sites are along the I-5 corridor. The Drivewyze locations near Juniper Butte is just north of Redmond, along Highway 97. The Wyeth site is due west of Hood River on I-84, and the Rocky Point location is along Highway 30.

Trucking jobs numbers climb after recent downturn
Preliminary figures show that the for-hire trucking industry added 1,300 payroll jobs on a seasonally adjusted basis in October, coming after three straight months of declines, according to the Department of Labor's monthly employment report.
The economy as a whole in October added 128,000 jobs, and the unemployment rate was 3.6%.
October's gains for trucking come after a 4,300-job loss in September and menial losses in July and August. Industry employment rose through the spring months.
Of major freight producing sectors, the construction industry added 10,000 jobs in October, while manufacturing lost 36,000 jobs, due in large part to the strikes at General Motors.
Electronic air-filter monitor integrates with ELD/telematics platform
Donaldson Company's wireless Filter Minder monitoring system for truck air filters will be integrated into electronic-logging-device provider Geotab's telematics platform. Filter Minder monitors the condition of truck engine air filters, with wireless sensors measuring filtration performance information and transmitting that to a compact receiver. With the integration, that will be directly connected to Geotab's GO device, to allow owner-ops and managers enhanced visibility into the status of the engine filtration system, Donaldson says.
The scalable technology will expand in the future to monitor the condition of additional filters and fluids on trucks, including fuel, lube and hydraulic applications.
Donaldson is field testing the solution today, and the integration with Geotab supports a commercial launch of Filter Minder set for 2020.