Trucking news and briefs for Monday, Feb. 24, 2020:
Michigan institutes spring weight restrictions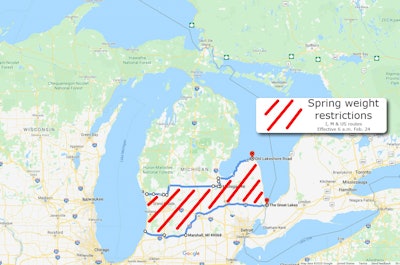 The Michigan Department of Transportation and local agencies are enacting spring weight restrictions. Effective 6 a.m. Monday, Feb. 24, weight restrictions are being imposed and enforced on all state highways within the following area of Michigan to protect highways:
Highways north of a line on Michigan Highway 43 in South Haven east to U.S. 131 in Kalamazoo County, then south to I-94 in Kalamazoo County and east to I-69 in Calhoun County, then north to Lansing and continuing east on I-69 to Port Huron.
Highways south of a line on Michigan Highway 46 in Muskegon County from U.S. 31 Business Route in Muskegon east to U.S. 131, then north on U.S. 131 to Michigan Highway 46 and east to I-75 near Saginaw, then north on I-75 to Michigan Highway 25 near Bay City and continuing east on Highway 25 to Michigan Highway 46 in Port Sanilac, including the entire Thumb region. All state trunk lines between these two lines will have weight restrictions imposed and enforced.
In the restricted areas, the following will apply:
On routes designated as "all-season" (designated in green and gold on the MDOT Truck Operators Map), there will be no reduction in legal axle weights.
On routes designated as "seasonal" (designated in solid or dashed red on the MDOT Truck Operators Map), there will be a posted weight reduction of 25% for rigid (concrete) pavements and 35% for flexible (asphalt) pavements.
All extended permits will be valid for oversized loads in the weight-restricted area on the restricted routes. Single-trip permits will not be issued for any overweight loads or loads exceeding 14 feet in width, 11 axles and 150 feet in overall length on the restricted routes.
MDOT determines when weight restrictions begin each spring by measuring frost depths along state highways, observing road conditions and monitoring weather forecasts. Weight restrictions remain in effect until the frost line is deep enough to allow moisture to escape and the roadbeds regain stability.
UPS wants its student drivers to be able to pull doubles
The nation's largest carrier is petitioning the Federal Motor Carrier Safety Administration to allow its driver trainees with commercial learner's permits to pull 28-foot doubles to obtain behind-the-wheel training.
UPS says in its request that the drivers who would operate under the waiver would be "under direct supervision of a driving instructor."
Federal CDL regulations don't allow any driver to operate a commercial motor vehicle when the driver doesn't have a CDL or CLP with the proper class or endorsements, and regulations don't allow a double/triple trailers endorsement on CLPs.
FMCSA is accepting public comment on the request for 30 days beginning Tuesday, Feb. 25. Comments can be made at www.regulations.gov by searching Docket. No. FMCSA-2020-0069.
Meritor's new expedited ordering process for drivetrain components
Meritor's new Drivetrain on Demand program simplifies the ordering process for U.S. and Canadian customers needing quick replacement of driveshaft and differential assemblies, with a goal of getting the ordering and shipping processes down to a 24-hour turnaround. The portfolio of products within Drivetrain on Demand includes more than 10,000 driveshaft assembly part numbers, the company says.
Customers purchasing through Drivetrain on Demand can order driveshaft assemblies by those part numbers on MeritorPartsXpress.com, or provide OEM dealers with VIN numbers to order through dealer portals. Customers without a part number can order using form MISC 1783 to ensure proper manufacturing of replacement driveshafts by authorized rebuilders. Meritor notes it has enhanced the availability of driveshaft assemblies by including authorized rebuilders in Canada in this program. The offering includes Meritor 1610-1810 series, RPL 20/25 series and Dana SPL 170/250 driveshaft assemblies with a two-year warranty.
Drivetrain on Demand is part of the company's North America Authorized Rebuilder Program. When Meritor receives an order for a replacement assembly, the company works with an authorized rebuilder closest to the end-user, and rebuilders ship custom-built units within 24 hours.