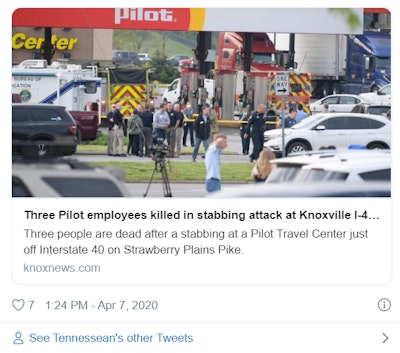 Trucking news and briefs for Wednesday, April 8, 2020:
Three killed in stabbing at Knoxville, Tennessee, truck stop
A 33-year-old truck driver was shot and killed by police after allegedly stabbing four people, three of whom were pronounced dead at the scene, Tuesday morning at a Pilot Travel Center in Knoxville, Tennessee.
The Tennessee Bureau of Investigation says the three deceased victims were all employees at the Pilot along Strawberry Plains Pike. The fourth victim, who TBI says has been released from the hospital, was a customer at the store.
"Today is a difficult day for the Pilot Company family," the company said in a statement Tuesday. "We are devastated to confirm the loss of three team members and the injury of a guest after an act of violence at our Strawberry Plains, Tennessee, location this morning. It is with heavy hearts that we extend our deepest sympathy to the families and loved ones of the victims. We are providing support and counseling to the families and our team. We are working closely with local authorities. Please keep these families in your thoughts and prayers."
TBI has identified truck driver Idris Abdus-Salaam, of Durham, North Carolina, as the suspect. Police were alerted of the stabbings at approximately 7 a.m. Tuesday and, upon arrival, they found at least one person with stab wounds outside the store.
They also saw a man, armed with a knife and identified by witnesses as the suspect, in the parking lot. Officers approached the man, later identified as Abdus-Salaam, but he refused to drop his weapon. TBI says that at some point during the encounter, one of the officers shot Abdus-Salaam. He was pronounced dead at the scene.
No information has been released about the motive for the stabbing.
Three Pilot employees killed in stabbing attack at Knoxville I-40 truck stop https://t.co/K6Sn5YuFCn

— Tennessean (@Tennessean) April 7, 2020
Drivewyze adds 'open and closed' alerts for Florida rest areas
Drivewyze announced Wednesday it is now providing "open and closed" alerts for Florida's 65 rest areas and welcome centers to help truck drivers find available parking during the COVID-19 pandemic.
The Florida alerts were activated last week, joining Pennsylvania rest area alerts that went live on March 24. Drivewyze Safety Notification alerts are available and free to drivers subscribed to the Drivewyze PreClear weigh station bypass service.
Drivers will see notifications around 25 miles out from a rest area, then again at roughly five miles out.
Roadmaster paying drivers COVID-19 bonuses
The Roadmaster Group, which is headquartered in Phoenix, announced it is paying its company drivers and owner-operators a "special temporary COVID-19 relief appreciation pay."
The company says owner-operators will receive an additional 2% on standard contract revenue share. Most company over-the-road, regional, team and solo drivers will receive a 5 cents-per-mile boost. Local drivers will also receive an additional $20 a day.
The Roadmaster Group includes Tri-State, Roadmaster Specialized and AATCO, and delivers specialized high-security cargo. It's part of the Daseke Group.
Love's opens new Truck Care, Speedco locations
Love's Travel Stops has opened six new Love's Truck Care locations, three of which also have an on-site Speedco. The new locations are as follows:
Love's Truck Care – Tacoma, Washington
Love's Truck Care – Staunton, Virginia
Love's Truck Care – Moore Haven, Florida
Love's Truck Care with on-site Speedco – Malvern, Arkansas
Love's Truck Care with on-site Speedco – Ellensburg, Washington
Love's Truck Care with on-site Speedco – Obetz, Ohio