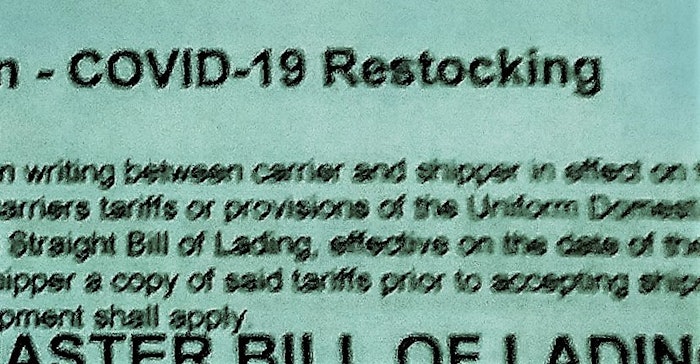 Trucking news & briefs for Thursday, April 9:
National hours of service waiver extended as coronavirus emergency persists
The Federal Motor Carrier Safety Administration announced Wednesday that, because the COVID-19 emergency continues, the agency is extending the nationwide hours of service exemption until May 15. FMCSA's notice also expands the conditions of the waiver to include liquefied gases that are used in refrigeration and cooling systems.
The previous declaration was set to expire Sunday, April 12. The exemption applies to carriers and drivers providing direct assistance for the emergency, including hauling supplies for essential services, such as medical care, and essential goods, such as food and fuel.

In addition to liquefied gases, loads under the exemption include:
Medical supplies and equipment related to the testing, diagnosis and treatment of COVID-19.
Supplies related to preventing the spread of coronavirus, like masks, gloves, hand sanitizer, soap and disinfectants.
Food, paper products and other groceries for emergency restocking of distribution centers and stores.
Precursor raw materials like paper, plastic or alcohol
Equipment, supplies and persons meant to provide temporary housing and quarantine facilities.
Personnel to provide medical or other emergency services.
'Virtual Truck Repair Expo' kicking off late in April
The Diesel Laptops distributor for commercial truck and off-highway diesel diagnostic software and hardware, will host a virtual trade show on April 29-30, with the "Keep It Moving" theme guiding an array of session aimed at functioning like a traditional conference. Attendees will be able to visit virtual booths and speak live to representatives through a chat feature. They'll also have the ability to save product information, videos, case studies, and other marketing collateral through a digital briefcase to review even after the show ends. There will also be live and pre-recorded presentations, Q&A sessions, and breakout sessions for attendees and sponsors to participate in.

"Everyone is facing a bout of uncertainty during this global pandemic. That's why it's so important for us to come together
as an industry to move forward and strengthen this battle against COVID-19," said Tyler Robertson of Diesel Laptops. The proceeds from event exhibitors and sponsors will be donated to the American Red Cross.
New digital payments system
Factoring company Apex Capital Corp. has launched its new new Blynk digital payment system — it allows Apex factoring clients to get paid in minutes with ease and security after their freight invoices are processed. The proprietary payments service hopes to provide another level of immediate cash flow management for Apex clients across the country, eliminating the waiting, whether hours or days, for money to arrive in a client's bank account.
The initial launch gives Apex clients the option to receive payment within minutes through bank debit cards, the Zelle banking app, or direct deposit account transfer. Blynk plans continued growth to integrate additional digital payment service platforms.
Benefits, Apex Capital says, include:
No incoming wire fees at most banks
Money sent right into client's bank account
Funds available for immediate withdrawal
Supported by most financial institutions nationwide