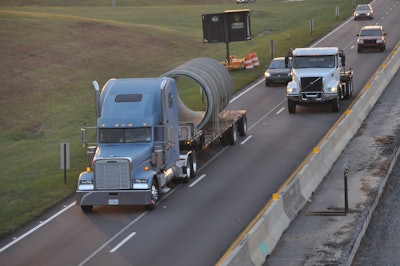 Freight continues to dry up and more drivers are being laid off as the coronavirus impact spreads, based on results from a weekly survey of Overdrive readers, most of them operators with their own authority.
Almost eight in 10 respondents said freight had "decreased" or "decreased significantly," while only 54% gave those responses two weeks ago. During the most recent survey, the "decreased significantly" response alone was chosen by 54%.
"The volume is non-existent," wrote one respondent. "And what you can find, the rates are insulting."
Another wrote, "Load boards in Oregon, for example, are showing 24 trucks per every one load."
As with the prior two weeks' surveys, respondents believe the freight market will get even worse. Asked for expectations of "freight levels over the next 30 days," 65% said it will "decrease" or "decrease significantly," a slightly lower share than those who gave those responses last week.
Among nine regions, the most pessimistic for the next 30 days were New England and East South Central (Alabama, Kentucky, Mississippi and Tennessee). At least four out of five respondents in each region look for further freight losses.
In operational responses to the economic contraction, 21% of respondents said they had decreased their driver force. While that figure was only slightly higher than responses in the prior two surveys, the cumulative effect could be severe, considering that some small fleets have closed or the owner has no more drivers left to shed. "I've been home for 3 weeks now," wrote one respondent.
Other operational measures each garnered at least one in 10 respondents: pursuing new lines of business, dropping unprofitable customers and canceling truck or trailer orders.
The imposition of "state or local orders" has forced 16% of respondents to close their business or one of its locations. The regions most affected were New England, at 30%, and East North Central (Indiana, Illinois, Michigan, Ohio and Wisconsin) and West South Central (Arkansas, Louisiana, Oklahoma and Texas).
"We pull flatbeds locally 100-150 air miles," wrote one respondent. "We have been going strong up until this week. Flatbed freight came to a screeching halt."
Even food hauling, believed to be virtually immune to freight cutbacks, might have its weak spots, based on one respondent: "I haul food and produce all year. Recently orders have stalled. And freight rates have fallen to the point of out of pocket to keep hauling so most of my business has come to a dead stop."