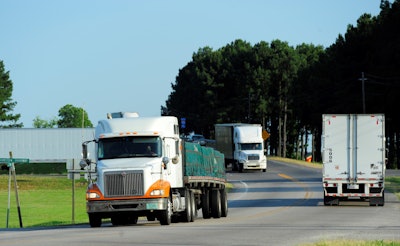 Overdrive's fifth weekly survey of small fleets and independent and leased operators showed them sinking further into stagnation due to coronavirus cutbacks. Rating their status, a third of respondents chose "totally shut down," and 55% picked "running far less than usual."
The April 22-27 survey received 405 responses, 88% of those with their own operating authority. Almost half of the total have two to nine trucks.
There were signs of small improvement last week in the spot freight markets, where many independents operate. DAT Solutions, operator of the DAT load board network, reported spot load-posting volume increased 6.2% after weeks of steep declines. That comes as Texas, Ohio, Georgia, Tennessee and other states began to slowly ease lockdown orders on parts of their economies.
Nonetheless, 88% of Overdrive survey respondents rated freight levels of the past week as having decreased, the highest point in the five weekly surveys. Most of those chose the "decreased significantly" rating.
Spot rates slid further into dangerously low territory for owner-operators and small carriers, with van rates for April, per DAT, sitting 20 cents a mile below the March average, 24 cents lower for both flatbed and reefer average rates.
Many Overdrive survey respondents, citing rates too low to operate at a profit, have continued to point to brokers exploiting the market to their advantage. "Brokers are raping carriers," wrote one respondent. "I can't afford to haul anything hardly being posted. I've even had brokers tell me this is their time to make money. I replied 'not off me.'"
The region reporting the biggest share of freight level decreases the past week is the Middle Atlantic (New Jersey, New York and Pennsylvania), at 95%. Other regions, particularly in the nation's Eastern half, were not far behind.
Freight levels improved "drastically" at the beginning of the COVID-19 outbreak, wrote one respondent. "Then the governor of Idaho issued shelter in place, and 5 days later loads went from 200 within 50 miles to 20 loads within 300 miles."
DAT Solutions pointed to two regional freight trends to watch, based on its own data, including volumes and rates in the states that are slowly relaxing some restrictions on business. This snapshot shows the one-week change in van average rates out of major markets where stay-at-home restrictions are beginning to lift:
*Dallas: $1.45 per mile, down 6 cents
*Houston: $1.48 per mile, down 9 cents
*Atlanta: $1.66 per mile, down 16 cents
*Columbus, Ohio: $1.71 per mile, down 17 cents
*Memphis: $1.69 per mile, down 13 cents
This week may tell a different story.
For reefers, too, a warming seemed evident on 14 of the 72 highest-volume reefer lanes in the DAT network. Most of those lanes originated in Florida, Texas, and Arizona. Produce harvests are also starting in California, where strong crop yields could boost demand.
Small fleets' operational, other responses
About one in five respondents reported driver layoffs as one of the operational responses to the broad economic slowdown, consistent with other weeks' reports. The regions showing the biggest responses for driver layoffs last week were by far the Middle Atlantic (35%) and South Atlantic (34%). That region includes Delaware, Florida, Georgia, Maryland, North Carolina, South Carolina, Virginia and West Virginia.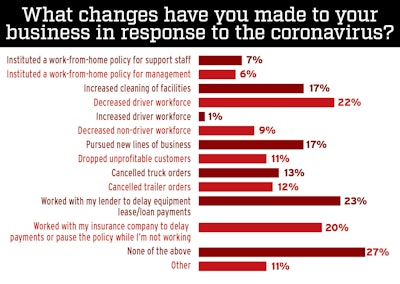 Only 7% of the 198 respondents with two to nine trucks reported that their drivers had been tested for COVID-19. Testing was reported in all survey regions except West North Central (Iowa, Kansas, Minnesota, Missouri, Nebraska, North Dakota and South Dakota), where there was none reported.
Among the small sample that tested, 23% saw positive results and 15% were not sure. The total of drivers testing positive was not available. The only regions reporting positive tests were South Atlantic, New England (Connecticut, Maine, Massachusetts, New Hampshire, Rhode Island and Vermont) and East North Central (Indiana, Illinois, Michigan, Ohio, Wisconsin).
At least one in five respondents said they had worked with a lender or insurance company to delay payments or make other arrangements. Owner-operators Daniel and Phyllis Snow of Harrison, Ark., successfully deferred a couple payments on a transmission-replacement loan early on in the crisis, for a small fee, Daniel noted on Monday, and have been sitting for just shy of a month at this point.
They're not the only ones who've been successful working with lenders and/or insurance companies to that effect, though survey respondents' comments told another side of that story:
"Lender would not lower or delay payment. Insurance dropped payment by $31.00 a month."
"My insurance does not want to work with me. If no payment is made, my insurance WILL BE CANCELED. No exceptions."
"Tried working with my lender but they are unable/unwilling to do much or what they offered would end up hurting me and the business."
Another potential financial solution was to apply for aid under the federal government's initial Paycheck Protection Program. Almost half of respondents had applied. Of those, one in five were approved and the rest were rejected or had received no response.
A new round of PPP loans for small businesses was approved last week. Interested applicants should inquire through their bank. For the self-employed, applicants have found, banks are following Treasury Guidance and requiring the Schedule C from your 2019 returns, not accepting the prior year.