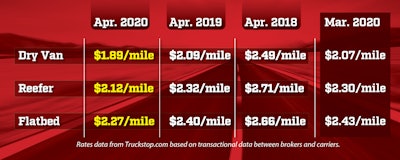 Of little surprise, per-mile spot market rates in April sank as freight movement stalled due to the COVID-19 coronavirus outbreak and corresponding economic malaise.
According to data from Truckstop.com, national average rates in all three major truckload segments tumbled, with dry van and reefer both falling 18 cents a mile on average and flatbed falling 16 cents a mile.
Rates for dry van loads fell to $1.89 a mile, down from $2.07 in March. That's van's lowest per-mile average since the 2016-2017 freight recession. Van's average was down 20 cents from last April and 60 cents from April 2018.
Reefer rates slipped to $2.12 a mile as a national average, down from $2.30 in March. That's reefer's lowest monthly average since August 2017. Likewise, it's 20 cents lower than April 2019 and 59 cents cheaper than April 2018.
Flatbed rates, despite the segment's outlook, fell only to $2.27 a mile, from $2.43 in March. Its April average was 13 cents shy of April 2019's average and 39 cents short of April 2018.
Owner-operators have in recent weeks reported tumbling rates, forcing many to have to park. Some took to Washington, D.C., starting Friday in part to bring awareness to cheap rates. Many remain in D.C. today.