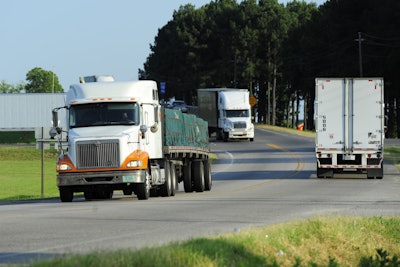 A large chunk of the nation's small fleets continues to be closed or operating well below normal as the coronavirus continues its gridlock on much of the economy, according to Overdrive's weekly survey. Business status was listed as "totally shut down" by 29% of respondents and "running far less than usual" by 54%.
The hardest hit regions were South Atlantic (Delaware, Florida, Georgia, Maryland, North Carolina, South Carolina, Virginia, West Virginia), where respondents choosing either of those categories totaled 96%, and East South Central (Alabama, Kentucky, Mississippi, Tennessee), at 95%.
Just 6% of survey respondents from the East South Central region were refrigerated carriers, whose commodities hauled have been more insulated from the pandemic's effects in some ways than other sectors. Respondents in that region were also more likely than most haul flatbed or specialized platform freight, hit hard by a decline in manufactured goods. The South Atlantic states' operational breakdown largely mirrored other regional shares among respondents.
Small fleet owners in three pockets of states show much better resilience, with 25% to 27% reporting their status as "virtually unchanged" or even "busier than usual." These states are East North Central (Indiana, Illinois, Michigan, Ohio, Wisconsin), West South Central (Arkansas, Louisiana, Oklahoma, Texas) and Pacific (California, Oregon, Washington, Alaska and Hawaii).
Overdrive's most recent weekly survey gathered results from 338 respondents during April 29 to May 5. Nine in 10 respondents were those with operating authority – 186 running one truck and 152 running two to nine trucks. The remaining responses came from leased operators.
Recent freight experience has continued to be slim pickings at super-low rates for most respondents. However, near-term expectations improved slightly from recent weeks.
Asking how the pandemic has affected freight levels, 20% chose "decreased" and 65% "decreased significantly," on par with recent weekly surveys.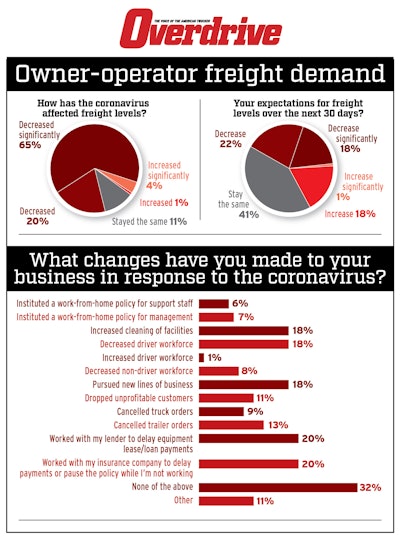 "Rates are cut in half even on 'essentials.' Brokers are raping us $375 for a 153-mile trip!" wrote one respondent, who went on to list expenses. "That leaves you with $18.75 to pay MA and NY tolls and a coffee… Parked my trucks and save my money because it comes down to me paying them to deliver their freight!"
Asked about freight levels over the next 30 days, six in 10 say they expect levels to stay the same or increase. In the prior survey, half gave those responses.
Other survey highlights:
Asked about business changes in response to coronavirus, 18% say they have cut drivers, comparable to rates in other surveys.
One in five respondents are trying to work with a lender or insurance company to delay payments.
One in five applied for unemployment compensation, but most were rejected or are still waiting for a response.
Choosing among the biggest challenges for the rest of 2020, by far the top responses were freight pricing (71%) and cash flow (62%).