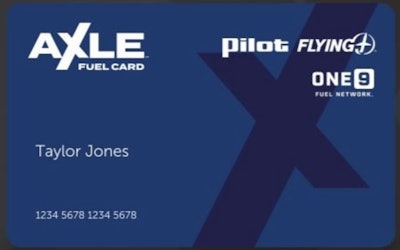 Trucking news and briefs for Tuesday, May 5, 2020:
Pilot launches new fuel card for all fleet sizes
Pilot Company has launched a new fleet card, the Axle Fuel Card, that can be used for fuel purchases, truck care services and select truck merchandise.
The card offers no transaction, account management, annual or hidden fees; money back rewards to go toward fuel purchases; perks for drivers; Pilot Flying J Truck Care savings; and more.
Drivers can earn one bonus loyalty point per gallon when using the Axle Fuel Card at Pilot and Flying J locations, and two bonus loyalty points per gallon when using the card at One9 Fuel Network locations.
Fleets using the card will also receive $30 off any tire or service, 10% off hourly rates at service centers and no callout fees for roadside service.
"Through the new Axle Fuel Card, we're able to extend much-needed credit to the industry with added rewards for fleets and professional drivers, said Jimmy Haslam, CEO of Pilot Company. "Our goal is to provide fleets of all sizes with a reliable credit solution that fuels their business and enables them to focus on the road ahead."
Overdrive parent company providing Chick-fil-A to truckers
Randall-Reilly, the parent company of Overdrive, is partnering with Chick-fil-A to feed truckers at the rest area near milemarker 85 along I-20/59 northeast of Tuscaloosa, Alabama.
Drivers who stop at the rest area on both sides of the interstate on Tuesday, May 12, between 11 a.m. and 1 p.m. will receive a boxed lunch from Chick-fil-A, bottled water donated by Coca-Cola and a care package from Randall-Reilly that includes several snacks and goodies.
Truckers are asked to follow signs into the rest areas. There will be a tent near the exit where drivers will be handed a bag through their window so they can keep rolling and to avoid traffic backups at the rest areas.
New report looks at freight-movement vehicle miles traveled to illustrate pandemic's impact
Volvo, Mack extend coronavirus financing plans through May
Volvo Financial Services and Mack Financial Services are extending enhanced finance programs in the U.S. and Canada on the purchase or lease of certain truck models due to the COVID-19 pandemic. Volvo's programs are extended through May 29, and Mack's are extended through June 30.
Volvo's "Hammer Down" program in the U.S. extends the first payment on model year 2019 and 2020 Volvo VNL, VNR and VNX trucks by 60 days and by 90 days for buyers of VHD models. The program offers low to no down payments for qualified applicants. Additionally, for 2019 model trucks, customers can received up to $5,000 payment credit and up to $3,000 on 2020 models.
Daycab models will receive an engine plan and purchased exhaust aftertreatment system coverage for three years or 300,000 miles. Sleeper models will years the coverage for four years or 500,000 miles.
In Canada, the "Spring Into Action" program offers $4,000 in down payment assistance as well as up to $5,000 towards the cost of purchased coverage for 2019 VNL, VNR, VNX and VHD models, and up to $3,000 towards 2020 models. It also extends the first payment up to 60 days for on-highway customers and 90 days for vocational customers.
For Mack Trucks, each Mack Financial Services offer extends the first payment due date for qualified buyers of model year 2019 and 2020 Mack Anthem, Pinnacle, Granite, LR and TerraPro models. All four programs include an engine plan and Exhaust Aftertreatment (EATS) purchased coverage, competitive financing rates and flexible payment options.
The Let's Deliver Finance Program is for Mack Anthem and Pinnacle day cab models and extends the first payment for 60 days. The Fully Loaded Highway Sleeper Finance Program is for Anthem and Pinnacle sleeper models and extends the first payment by 60 days.
For the Granite model, MFS is offering the Let's Build America Finance Program, which extends the first payment for 90 days.
Finally, the Trash into Cash Finance Program is for Mack buyers in the refuse segment looking to buy an LR or TerraPro. The program extends the first payment 90 days and also includes a chassis purchased coverage, in addition to the engine and EATS coverage.
Landstar extends COVID delivery bonus period
Landstar announced Tuesday it is extending its $50 per load coronavirus bonus for drivers and agents through May 15.
The company started the bonus at the beginning of April for drivers who haul a load and agents who dispatch the loads. It was set to expire on April 30, but the company extended it through May 15.