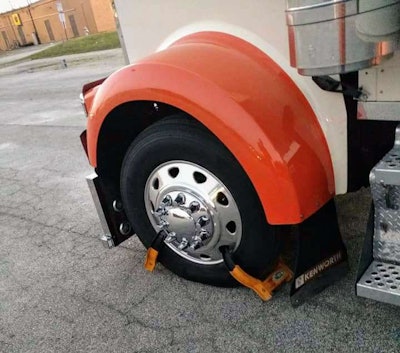 Trucking news and briefs for Wednesday, May 6, 2020:
Uber Freight adds a leased owner-operator option
Freight-matching brokerage Uber Freight has added an option to its platform to allow owner-operators without their own authority to lease on to what the company has called a "virtual trucking carrier" dubbed CloudTrucks. The setup would be similar to that of an owner-operator who leases on to a larger carrier.
Operators with their own truck can run under Uber Freight's authority and have access to loads in the CloudTrucks app. It also provides discounted insurance options, Uber Freight says. Likewise, for drivers without a truck, CloudTrucks has partnered with Ryder to allow truckers to lease a truck to then operate under CloudTrucks' authority.
North Carolina towing company charged for price gouging truckers
A Charlotte, North Carolina-based towing company has been charged after allegedly improperly booting and/or towing trucks hauling COVID-19 relief supplies and price gouging truckers for the release of their trucks.
North Carolina Attorney General Josh Stein obtained a temporary restraining order against A1 Towing Solutions and its owner, David Jewel Satterfield, which bans the company and Satterfield from the towing business in North Carolina until a court hearing.
Stein's lawsuit alleges that the company "improperly and predatorily booted or towed trucks that were delivering food, water, bleach or needed medical supplies" during the COVID-19 pandemic, even though the truckers had permission to park where they were. The lawsuit also claims Satterfield and his company allegedly forced drivers to pay up to $4,400 to get their trucks back.
Other claims against A1 Towing, according to a press release from Stein's office, include double-booting a tractor-trailer to double the price for removing the boots, charging inflated fees for the use of credit cards and "bogus fees for filings with the DMV," and threatening to increase fees unless drivers paid immediately.
The complaint details allegations from four truck drivers whose trucks were either booted or towed, then charged large amounts to have their trucks released.
"As a result of A1 Towing Solutions and Satterfield's actions, drivers were delayed in delivering critical supplies needed in North Carolina and other states to respond to the pandemic," the press release says. "Attorney General Stein is seeking temporary, preliminary, and permanent injunctive relief against the defendants, as well as restitution for victims, civil penalties, and other relief."
The practice of truck booting and towing has been on the rise in recent years, as Overdrive's Todd Dills has covered in depth.
NHTSA: Truck fatalities up in 2019 while overall traffic deaths down
Early estimates from the National Highway Traffic Safety Administration suggest a slight decline in traffic fatalities across the country in 2019 despite a projected rise in truck-involved crash fatalities.
If NHTSA's estimates hold true, 2019 would be the third consecutive year with declining highway fatalities.
NHTSA's projection shows an estimated 36,120 people were killed in crashes in 2019, down approximately 1.2% from the 36,560 fatalities reported in 2018. Fatalities in crashes involving at least one large truck are projected to have increased by 1%, however.
The agency's preliminary numbers show a decrease in fatalities in all 10 regions across the country except the Southeast (which includes Georgia, Florida, South Carolina, Tennessee and Alabama), which saw a 2% increase in traffic fatalities last year. New England saw the biggest year-over-year decline in fatalities with an 8% decrease.
NHTSA did not release specific numbers to show how many people were killed in different crash types. The agency says its full 2019 numbers will be released later this year.
Free food for truckers in Florida Thursday
The Florida Department of Transportation and Florida Trucking Association are partnering to provide free lunches to truck drivers Thursday, May 7, from 11 a.m. to 1 p.m.
The food will be provided for truckers at the I-75 Southbound rest area near Ocala at milemarker 346. Food is being sponsored by the Florida Trucking Association, Chick-fil-A, Publix Super Markets and Walmart Transportation.
Love's offering discount to truckers
Love's Travel Stops and several of its partners are offering truck drivers a $5 e-coupon that can be used at any Love's location for in-store purchases.
The "Thank a Driver" e-coupon is available to the first 100,000 drivers for redemption through June 16 using the Love's Connect mobile app. Drivers can redeem the coupon by opening the Love's Connect app, adding their My Love Rewards account to the app, adding the deal to their account in Mobile Deals, then scanning the app or swiping their loyalty card to save $5 on a transaction. Tobacco, alcohol, fuel and lottery transactions are not eligible for the discount.