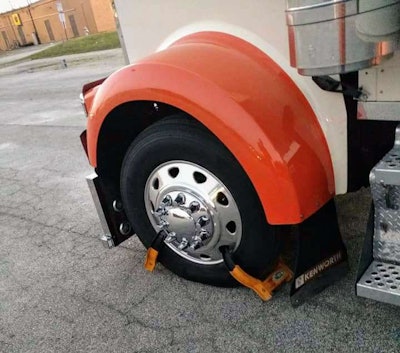 Previously in this series: Parking perils: The increasing cost, and risk, of booting and towing
A driver for small fleet Eagle Express found himself with a $2,500 boot-removal fee the night of Aug. 8 while parked on a disused lot in northwest Charlotte, North Carolina.
He got on the phone with fleet owner Leander Richmond, who promptly attempted to identify the property owner and contacted local police. Though Richmond was all too familiar with such incidents, the outcome this time was a breath of fresh air.
He reached a Charlotte-Mecklenburg County officer, who already had confirmed with the property owner that the booting company had no permission to do that on the lot. The booter had put up signs on the property nonetheless, partially obscured by trees, Richmond says.
"I honestly felt that this was something where [police] felt, finally," they had a clear-cut case, Richmond says. "They did their research, looked at all the information that we had, and they sought a warrant and arrested this guy — it turned out he'd been doing this on multiple lots. He'd actually been out there – let's call it what it is – stealing from truck drivers.
"What makes this doubly bad or triply worse," Richmond says, is that different officers actually were on the scene the night his driver was booted. They "helped facilitate his illegal boot" because they didn't have the necessary information to figure out the booter was operating without a valid contract with the property owner.
That information, uncovered later, ultimately led to his arrest — though not before Richmond had paid the booting fee. He now has the option of going to court to pursue a refund.
Determining the validity of a booter's contract with a property owner is one among many barriers to fighting excessive or illegal boot fees. But at least in some cases it can lead to a favorable resolution if the booter, as was the case here, doesn't have a contract with the property owner or otherwise doesn't follow contractual stipulations, such as rates.
In Richmond's home state of Michigan, tow companies doing business with the state are required, for instance, to file rates with the state and stick to them. That's helped him avoid overcharges in a recent instance.
Next in this series: Readers diverge on the value of a parking reservation