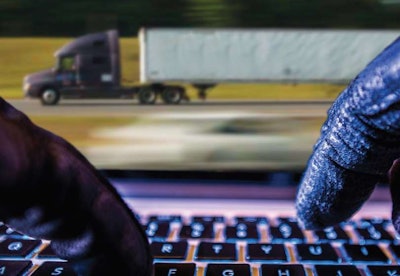 Cybersecurity 101 is a new monthly series on Overdrive intended to help owner-operators and small fleets navigate the growing risks of cybersecurity threats, identity theft, online scams and more. In this installment, Route4Me founder Dan Khasis details how hackers are exploiting the COVID-19 crisis to ramp-up cyber attack efforts.
In a recent ransomware attack on a family-owned trucking company from Massachusetts, hackers stole company data and released over 781 megabytes of it on the so-called "clear web," making it available for public use. The trucking company, founded in 1981, has 13 drivers and 16 trucks in operation.
Attackers usually snoop on company emails, data plugged in on software and company records for some time before they launch an attack and encrypt and steal the data. Asking for a ransom at a level typically bearable by the company, they threaten to make public the sensitive data on the web and often release the victim's customer list and financial and payroll data until their demands are met.
With the economy crashing due to the ongoing health emergency, cyber attacks have spiked, exploiting the confusion and desperation caused by the crisis. Also, companies are working remotely and IT departments are not in the position to respond quickly in case of security threats.
This is also true for companies without sophisticated IT departments, such as small fleets and owner-operators, whose sensitive data is also at risk.
Gone are the days when trucking companies in the U.S. did not operate in the digital sphere. Accounting, route planning, communication — all of these essential fleet tasks now take place, in large part, digitally via a software provider.
They are vulnerable to cybersecurity threats.
To secure both company data and customer information, to prevent fraudulent activities and to ward off cyber threats like ransomware attacks, it's high time that trucking companies take stringent cybersecurity measures.
Cyber experts advise that trucking companies should stay informed and categorically maintain cybersecurity norms, such as installing anti-malware software, using multi-factor authentication and avoiding clicking suspicious links. Likewise, they should seek professional help if resources are not available in-house. Experts also suggest reporting cyber attacks to the FBI to ensure probes and prevent similar attacks on other companies. This is much needed, as no one, whether a family-owned trucking businesses or a multinational variant, is safe from cyber threats during these uncertain times.
Everyone needs to help each other hang tight.