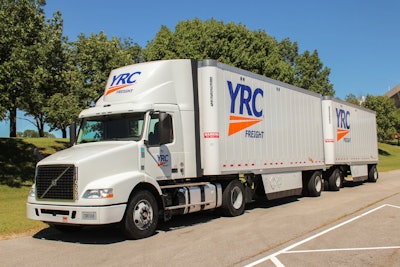 Trucking news and briefs for Thursday, July 2, 2020:
YRC to receive $700 million coronavirus bailout from government
YRC Worldwide announced Wednesday that the U.S. Treasury Department intends to loan the fleet $700 million as part of the CARES Act for COVID-19 pandemic assistance. That comes in exchange for nearly 30% ownership stake of YRC by the U.S. government. YRC has been plagued with debt and profitability issues since the recession in 2008-2009.
The fleet says it and its companies Holland, New Penn, Reddaway and YRC Freight "have been significantly impacted by the COVID-19 pandemic." YRCW plans to use the CARES Act loan to pay for deferred employee healthcare and pension costs and other contractual obligations, as well as to support capital investments.
The Treasury Department will receive 29.6% fully diluted equity ownership in YRCW for the loan. The company will receive the $700 million in two portions:
The first of approximately $350 million will be used to cover short-term contractual obligations and certain other obligations including pension and healthcare payments. The loan terms are the London Interbank Offered Rate (LIBOR) benchmark interest rate plus 3.5%, consisting of 1.5% cash and 2% payment in kind. This loan matures on September 30, 2024.
The second portion of approximately $350 million will be used for essential capital investment in trailers and tractors and is expected to carry an interest rate of LIBOR plus 3.5% in cash. This loan also matures on September 30, 2024.
Convoy, KeepTruckin partner for increased shipment visibility
Digital freight brokerage Convoy and ELD maker KeepTruckin announced a partnership that will integrate KeepTruckin's location data into Convoy's system for en-route shipments for increased shipment visibility.
"Carriers will have total control and must consent for their data to be shared between the two companies," a press release announcing the partnership says.
Convoy users already must use the Convoy mobile app to share their location when on a load for Convoy, but if the driver's phone battery dies or if they lose cell reception, GPS is unable to send precise location information to Convoy, requiring check-ins with the carrier to confirm the estimated arrival time.
The KeepTruckin integration will provide a secondary location service to augment Convoy's shipment tracking, using data from the KeepTruckin ELD.
The partnership also lowers costs for carriers by offering a 15% discount on KeepTruckin's ELDs and other fleet management technology.
Energy Dept.'s contracted radioactive haulers get 30-minute break waiver extension
Carriers contracted with the Department of Energy to haul security-sensitive radioactive materials can continue to operate with a waiver from the 30-minute break rule requirements following an extension of the waiver by the Federal Motor Carrier Safety Administration.
The agency announced the extension in a Federal Register notice that will publish Monday, July 6. FMCSA first granted the waiver on June 30, 2015, for five years.
Under the terms of the waiver, exempted drivers can use 30 minutes or more of on-duty attendance time to satisfy the 30-minute break requirement, as long as they are not performing other work during that time.
The renewal is effective immediately and is good through Sept. 29, 2020, when the revised hours of service rules, which FMCSA says make the waiver unnecessary, are set to take effect.