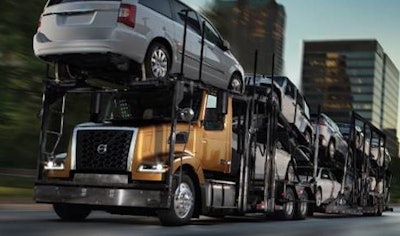 Trucking news and briefs for Thursday, July 16, 2020:
Volvo Trucks offering virtual truck walkarounds during COVID-19 restrictions
Social distancing guidelines and travel restrictions in place due to the COVID-19 pandemic have prompted Volvo Trucks North America to offer customers the opportunity to participate in live video walkarounds of pilot trucks, providing a high-definition look at the design and engineering of truck models.
The Volvo Trucks Customer Center in Dublin, Virginia, is conducting live virtual presentations of new Volvo Trucks models via video conference. The new virtual walkarounds give a more immersive visual experience for those looking for an up-close view of Volvo trucks.
"This has been incredibly beneficial in allowing customers to have an in-depth and up-close discussion of how they can use our trucks and services to benefit their business, even when they aren't able to physically be here," said Rob Simpson, director, Volvo Trucks Customer Center. "We also found that the camera's small size and high definition let the customer get a close look at components and installations that are not easily accessible. So even with live customer visits, we will still use this technology to help them see more of our trucks."
St. Christopher receives $62.5k donation from brokerage
MoLo Solutions, a Chicago-based 3PL company and freight broker, donated $62,500 to the St. Christopher Truckers Relief Fund, the largest donation from a 3PL to SCF and the first from MoLo.
The funds were raised in a campaign in which the company agreed to donate $5 for every load moved in May. The initial goal of $50,000 was exceeded on the last day of the campaign when employees donated more than $12,000 in less than an hour.
Donations to SCF help provide financial assistance to ill or injured semi-truck drivers in the form of direct payment to providers for household living expenses such as rent/mortgage, utilities, vehicle payments and insurance. SCF also provides health and wellness programs for drivers in hopes to prevent some medical illnesses, including health challenges, smoking cessation and free flu, shingles and pneumonia vaccines.
Pilot holding fundraising campaign for Boys & Girls Clubs of America
Pilot Company has launched an in-store round-up campaign to support Boys & Girls Clubs of America that runs through July 27.
During the campaign, Pilot customers will be given the option at checkout to round-up their purchases or make a donation in another amount. When donations are made, 100% of the proceeds go directly to Boys & Girls Clubs.
While more than 1,000 Clubs are currently open to offer childcare for essential workers, COVID-19 has forced nearly half of Boys & Girls Clubs across the country to close their doors in a traditional fashion. To ensure the organization is still able to help children and families in communities with the greatest need, more than 3,000 Clubs nationwide are offering a range of services such as virtual academic programming, activity kits for pickup and providing meals to children who are out of school.
Love's begins annual Children's Miracle Network fundraising campaign
Love's Travel Stops is asking customers to "Round Up the Change" to support Children's Miracle Network Hospitals. From July 14 through Oct. 3, customers can round up their purchases to the nearest dollar at any Love's location across the country to help sick and injured children in their local communities.
The company has asked customers to round up their change for years to support CMN Hospitals but is starting this campaign early and extending it through the company's traditional campaign this year to increase the funds raised during the COVID-19 pandemic and to assist in the federal change shortage due to the limited supply because of COVID-19 production shortages.
"COVID-19 has dramatically impacted everyday life, and we're going to partner with our customers to fight it and help sick and injured children through our continued support of CMN," said Jenny Love Meyer, chief culture officer and executive vice president of Love's.
Round Up the Change precedes this year's full-blown CMN Hospitals campaign, which will begin Aug. 31. Since 1999, Love's and its customers have raised more than $31 million for CMN Hospitals, including nearly $4 million in 2019.
New TA opens in Lake City, Florida
TravelCenters of America this week opened a new TA travel center in Lake City, Florida, in the former Shuttle 75 truck stop. The store is located on I-75 at Exit 414.
The location offers 100 truck parking spaces, nine diesel fueling lanes, 13 showers, an Eden Garden restaurant, Brick Oven Pizza and more.
The site is the first TA-branded franchise in Florida, the company says.