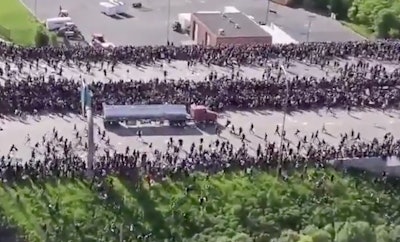 Trucking news and briefs for Thursday, Aug. 13, 2020:
Trucking group warns of highway closure from protest in Chicago
The Mid-West Truckers Association is warning truck drivers of a protest rally and march that is expected to shut down portions of the Dan Ryan Expressway (I-94) in Chicago on Saturday, Aug. 15.
The group says truckers are urged to avoid I-94 in both directions within the city, and if drivers are only traveling through northeast Illinois, they are urged to take alternate routes, such as I-294.
According to the group, authorities say marchers are planning to enter the northbound lanes of the interstate around noon at the 47th Street entrance ramp and proceed to the 43rd Street exit ramp. All vehicle traffic will be diverted onto local traffic lanes. Entrance to the northbound lanes of the expressway will be restricted beginning at 63rd Street, and all traffic will be diverted off the interstate at 59th Street. Traffic on the Chicago Skyway will also be restricted at Stony Island Avenue.
There has been increased awareness among truck drivers since nationwide protests were sparked in late May following the death of George Floyd in Minneapolis, which resulted in a trucker driving into a crowd of protesters on I-35 West in the city on May 31. The driver, Bogdan Vechirko, didn't hit anyone and no one was hurt, but after he came to a stop, he was pulled out of his cab and beaten until some protesters stepped in to shield him until police arrived.
If you are driving near Chicago this weekend, or in any area with protests that may spill onto a highway, keep these tips in mind to avoid escalating the situation.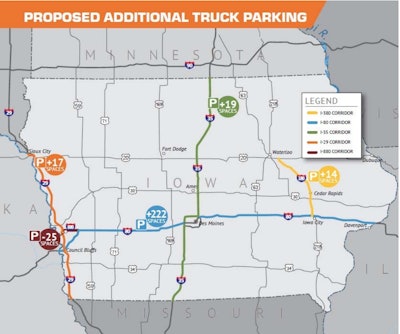 Iowa releases plan to add 247 truck parking spaces to rest areas
The Iowa Department of Transportation this week released an updated long-term plan for the state's rest area system.
Part of the plan is to close eight full-service rest areas and 10 smaller parking-only rest areas, most of which will close before the end of 2028.
Iowa DOT notes, however, that its funding plan will add 247 net truck parking spaces at the remaining 30 full-service rest areas and six parking-only rest areas. The additional 247 truck parking spaces will be on top of the existing 815 parking spaces currently in the state's rest area system.
According to Iowa DOT's plan, 222 truck parking spaces will be added to the I-80 corridor; 19 will be added to the I-35 corridor; 17 will be added to the I-29 corridor; and 14 will be added to the I-380 corridor.
Annual Make-A-Wish Convoy to be held virtually this weekend
Like so many other trucking industry events, a major fundraising convoy that was to be held this past spring will appear online this weekend.
The Make-A-Wish Philadelphia, Delaware & Susquehanna Valley will hold a largely online version of its annual Mother's Day Truck Convoy Sunday, Aug. 16. It will be shown on Facebook Live. Streaming begins at 11 a.m. and continues until about 2 p.m., according to organizers.
an actual truck convoy. A scaled-down convoy of the 30 top drivers and some of the event's sponsors will assemble at the grounds of the Manheim Pennsylvania Auto Auction. The convoy will depart at 1:30 p.m.
There will also be a chicken BBQ that local drivers can pre-order and pick up the day of the event, online games, convoy merchandise for sale, and an online auction.
Once again, the RoadPro Family of Brands is sponsoring the event and has donated a package of gear valued at almost $300 to the auction.
Sunday's virtual convoy remains a major fundraising event for Make-A-Wish, which has a goal of $250,000. All donations will be matched up to $10,000 by Goods Insurance, another sponsor of the event. Donations may be made online.