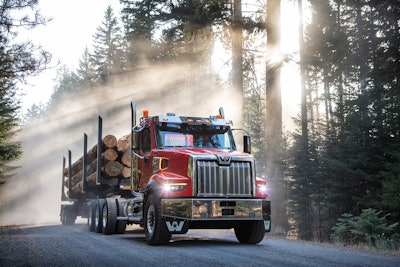 Western Star introduced Tuesday its next-generation vocational truck, the 49X, along with a new transmission.
The 49X tips the scales about 350 pounds lighter than the current 4900, thanks in part to its single-channel frame rail. Parent rail front frame extension options are available for applications requiring front-mounted equipment such as a plow.
"We've completely rethought the foundation of the 49X to make it easier to upfit, deliver greater durability, return greater payload and improve productivity," said David Carson, senior vice president for Daimler Trucks North America's vocational segment.
The cab is the largest in its segment, offering 10%-13% more space than competitors' comparable models, Daimler said.
The new Detroit DT12 Vocational automated manual transmission is available as either the DT12-V or the DT12-VX and rated up to a GCWR of 330,000 pounds. The DT12 Vocational series can be mated to the Detroit DD15 Gen 5 engine or Detroit DD16.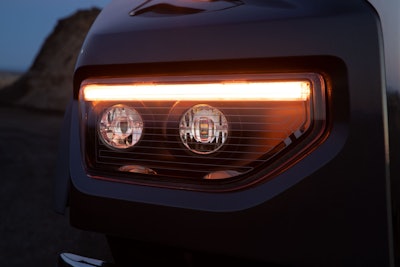 Both transmissions include side PTO capabilities for added flexibility, as well as unique work application modes and shift map strategies for all types of terrain. A Rock-Free Mode allows the 49X to free itself from wheel-stuck situations. An Off-Road Mode enables smooth driving on extreme terrain, and Power Launch provides powerful takeoffs while protecting the clutch and driveline.
All 49X models come with all-metal exterior brightwork and a standard interior with upscale appointments, including metal accent. An optional premium trim package is available. All models feature a wraparound dash that puts the command center in the driver's line of sight.
The 49X's hood is constructed of high-strength lightweight molded composite. It uses a patented ISO Tech Hood Suspension system that behaves similarly to a typical coil-over shock suspension with spring and damper. The system absorbs and dissipates vibrations from the chassis to protect the hood from damage.
The 49X also features the Detroit Assurance suite of safety systems: Side Guard Assist (SGA), Active Brake Assist 5 (ABA5), Tailgate Warning, Adaptive Cruise Control to 0 mph, Lane Departure Warning, Video Capture, Intelligent High-Beam and Automatic Wipers/Headlamps.
With optional SGA, radar technology detects moving objects and pedestrians on the passenger side that otherwise may fall in the blind spot and alerts the driver with both audible and visual warnings.
ABA5 detects distance and speed to moving and stationary objects in the driving path and determines if warning or automated braking is necessary. It also recognizes pedestrians crossing in the truck's path, alerting and applying the brakes if the operator does not react.
Visibility is enhanced by a sloped hood enabled by splayed frame rails, a lowered engine position and under-hood engine air filtration, a 28% larger single-piece roped-in windshield and an optional three-piece rear window that is 77% larger versus the 4900.