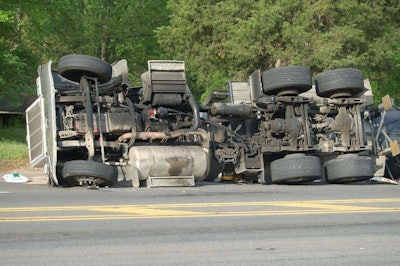 Trucking news and briefs for Friday, Oct. 2, 2020:
Truck-involved crash fatalities mostly unchanged from 2018 to 2019
Fatalities in crashes involving large trucks remained mostly unchanged from 2018 to 2019, according to statistics released Thursday by the National Highway Traffic Safety Administration.
NHTSA's report shows there were 5,005 fatalities in crashes involving at least one large truck (those with a gross vehicle weight rating of at least 10,000 pounds) in 2019, compared to 5,006 in 2018. NTHSA's statistics don't separate heavy-duty trucks (26,000-plus pounds GVWR) from light- and medium-duty trucks.
Additionally, large truck occupant fatalities also remained mostly even year-to-year, with 892 truck occupant fatalities in 2019 compared to 890 in 2018, NHTSA's statistics show.
Overall, traffic fatalities in the U.S. decreased by 2% from 2018 to 2019, falling from 36,835 fatalities in 2018 to 36,096 fatalities in 2019. The decrease occurred despite an increase in vehicle miles traveled in 2019, NHTSA notes.
According to NHTSA, fatalities decreased in 35 states, Washington, D.C., and Puerto Rico from 2018 to 2019, with the largest reduction in fatalities being seen in California and Pennsylvania. Fatalities increased in 15 states, with the largest increases being seen in Tennessee and Ohio.
NHTSA also released its early estimate for 2020 traffic fatalities, which shows an estimated 16,650 highway deaths in the first half of the year – a 2% decrease from the first half of 2019. The agency also notes vehicle miles traveled for the first half of 2020 were down approximately 16.6% year-over-year.
Flatbed carrier boosts driver pay with 'appreciation' bonuses
Alabama-based flatbed carrier Montgomery Transport announced a fourth quarter bonus pay program to show appreciation to its drivers.
The two-installment "Appreciation Pay" program will reward drivers based on all miles driven and is timed to give them extra cash for the holidays.
As part of the program, company drivers will earn an additional 2 cents per mile for all miles driven between Sept. 29 and Jan. 31, 2021. The first installment will be paid on Dec. 18 for all miles driven during October and November. The second installment will be paid on Feb. 5, 2021, for all miles during December and January. Drivers are eligible immediately upon hire but must be employed on the date of distribution to receive their bonus.
MT Dedicated drivers will also receive extra pay during the same time frame of up to $30 per week paid out on Dec. 18 and Feb. 5.
Pilot reopens Arizona truck stop after remodel
Pilot Company announced the grand reopening of a Pilot Travel Center in Gila Bend, Arizona, following the completion of a ground-up rebuild.
The Pilot now offers 70 truck parking spaces, eight diesel lanes, Subway and Mama DeLuca's Pizza restaurants, seven showers and more.
The facility is located at 3006 S. Butterfield Trail in Gila Bend.