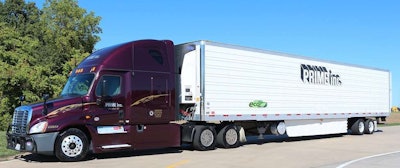 Trucking news and briefs for Monday, Oct. 5, 2020:
Drivers can sign up for settlement payouts in Prime, Inc. case
More than 40,000 truck drivers, including some who worked as owner-operators at the fleet, are eligible for at least a $100 payout from Prime, Inc., as part of its settlement over driver misclassification and other wage claims.
A court approved the Springfield, Missouri-based fleet's proposed $28 million settlement that was announced in July. Though that translates to an average of $700 per class member, payouts will be awarded based on tenure at the company and type of employment, so some drivers are likely to receive more than that average, and others less. All class members will receive at least $100.
The settlement covers all drivers who were trained at Prime, Inc., or worked at the fleet as a company driver or independent contractor between October 2012 and May 2020. Class members must file their claim by December 7, and a court hearing will be held in January to approve the final settlement and the class. Drivers can visit primetruckingsettlement.com to file their claims. Notices of claim eligibility were sent to class members October 5, according to attorneys handling the settlement.
The payout stems from two cases, Oliveira v. New Prime and Haworth v. New Prime, which have been combined into one case to settle both lawsuits. Oliveira, a leased-operator who claims he was misclassified as an independent contractor, forced a procedural matter in his case — whether truck drivers are bound by arbitration clauses — all the way to the U.S. Supreme Court in late 2018. The court ultimately ruled in his favor in February 2019.
Travelers Insurance 2020 risk index sees big growth in businesses' cyber worries
More than 1,200 business leaders participated in Travelers Insurance's annual, national survey of business risks, and less than half said their organization has utilized hacker intrusion detection software (48%), undergone a cyber risk assessment on their company (47%) or vendors (37%), or written a business continuity plan that could help them respond to a cyber attack (42%). More business leaders reported taking each of these precautions just a year ago. This is especially concerning as nearly 1 in 4 respondents (22%) said their company was a victim of a cyber event, the highest percentage since the survey began in 2014.
While broad economic uncertainty is the greatest worry for businesses overall, a reality reflected by Overdrive's audience throughout the post-pandemic period, cyber threats are the top concern for large and medium-sized businesses. The leading cyber concerns among all respondents:
Suffering a security breach (52% worry some or a great deal)
Unauthorized access to financial systems (50%)
Employees putting company information at risk (48%)
Becoming a cyber extortion/ransomware victim (47%)
Theft of the company's customer or client records (47%)
Suffering a cyber event due to employees working remotely (47%)
The survey also found that current events are influencing perceptions about the business environment in general; the percentage of respondents who say the business environment is becoming riskier is up significantly, from 36% in 2019 to nearly half (47%) this year.
Travelers continues to be proactive in addressing cyber concerns, including during October, which is National Cybersecurity Awareness Month. The Travelers Institute, the public policy division of Travelers, offer a webinar on October 21 discussing many of the survey findings.