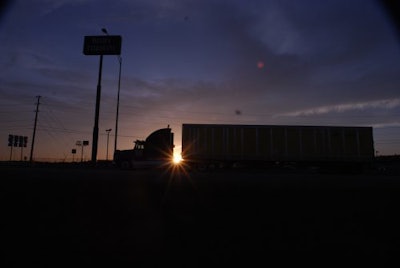 Trucking news and briefs for Thursday, Dec. 3, 2020:
Emergency COVID hours waiver extended through February
The federal hours of service waiver available to truck drivers providing direct emergency assistance for the COVID-19 pandemic has been extended through the end of February 2021 and expanded to also include the transportation of vaccines and medical supplies and equipment related to the prevention of COVID-19, as the Federal Motor Carrier Safety Administration announced earlier this week.
The waiver, which was previously set to expire Dec. 31, is now effective through Feb. 28, 2021. The waiver from Parts 390 through 399 of the Federal Motor Carrier Safety Regulations now covers drivers transporting the following:
Livestock and livestock feed
Medical supplies and equipment related to the testing, diagnosis and treatment of COVID-19
Vaccines, constituent products and medical supplies and equipment, including ancillary supplies/kits, for the administration of vaccines, related to the prevention of COVID-19
Supplies and equipment necessary for community safety, sanitation and prevention of community transmission of COVID-19, such as masks, gloves, hand sanitizer, soap and disinfectants
Food, paper products and other groceries for emergency restocking of distribution centers or stores
FMCSA in its waiver notes that it does not cover include routine commercial deliveries, including mixed loads with a nominal quantity of qualifying emergency relief added to obtain the benefits of the declaration.
XPO spins off warehousing business
LTL and brokerage giant XPO on Wednesday announced it will spin off its logistics segment as its own separate, publicly traded company. The two companies, for now, will be named XPORemainCo and NewCo. Brad Jacobs will remain the CEO and chairman of XPORemainCo, and he'll assume the role of chairman of NewCo.
XPORemain will retain the company's LTL trucking business and its freight brokerage business. NewCo, the spin-off, will assume the company's massive warehousing business, which encompasses some 200 million square feet of warehousing space globally. The transaction is expected to be completed by the second half of 2021, the company said.
XPO says the spin-off will be tax-free to XPO shareholders and current shareholders will own stock in both companies.
Trucker receives Highway Angel wings for helping elderly man
Richard Connell, a truck driver for ABF Freight based in Auburn, Washington, was named a Highway Angel by the Truckload Carriers Association for helping an elderly man who had fallen in his yard.
Connell was making a delivery in a residential neighborhood in Lynnwood, Washington, when he heard the next-door neighbor calling out for help through the bushes. A man had fallen in his garden and couldn't get up.
"The consignee and I ran through the bushes," Connell said, "and I jumped over the fence." He found the man lying in a flowerbed. "He had been there for an hour on a hot, sunny day."
The man was conscious, Connell said, but he couldn't lift himself out of the raised flowerbed. Connell helped him up and over to a shady area of the yard and got him into a chair.
At the man's wife's request, he called 911 to get the fire department and paramedics to come check the man over.
"He was cold and clammy, and I was concerned about a potential heart attack," Connell said. "I knew he was embarrassed, so I told him if he needed anything I'd be on the other side of the fence."
He then jumped back over the fence and finished his delivery, staying until he heard the paramedics arrive.
For his willingness to help, TCA presented Connell with a certificate, patch, lapel pin and truck decals. ABF Freight also received a certificate acknowledging their driver as a Highway Angel. EpicVue sponsors the TCA Highway Angel program.