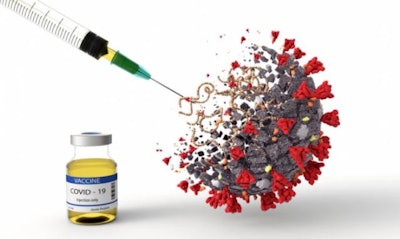 Trucking news & briefs for Tuesday, Dec. 1, 2020:
FMCSA's COVID hours waiver to help in vaccine distribution
The U.S. Department of Transportation today announced that all of its necessary regulatory measures have been taken for the safe, rapid transportation of the COVID-19 vaccine, including HOS waivers for those hauling vaccines.
An hours of service waiver for drivers providing direct emergency assistance during the pandemic has been in effect since March, and FMCSA clarified Tuesday that it will also cover drivers transporting the COVID-19 vaccine. The current waiver is set to expire Dec. 31. In addition to the vaccine, the suspension of Parts 390 through 399 of the Federal Motor Carrier Safety Regulations also covers:
Livestock and livestock feed
Medical supplies and equipment related to the testing, diagnosis and treatment of COVID-19
Supplies and equipment necessary for community safety, sanitation and prevention of community transmission of COVID-19, such as masks, gloves, hand sanitizer, soap and disinfectants
Food, paper products and other groceries for emergency restocking of distribution centers or stores
Several pharmaceuticals companies are in the process of getting a vaccine approved by the U.S. Food and Drug Administration. Once approval is given, distribution will begin. As reported on Overdrive last week, the trucking industry will play no small part in that effort.
KLLM announces pay increase for owner-operators, company drivers
KLLM Transport Services announced one of the largest driver pay increases in company history Tuesday, which will increase monthly pay for over-the-road and regional independent contractors for the company by more than 9% and company driver pay by more than 8%.
The company says its independent contractors' fuel surcharge will now cover all compensated miles, loaded and empty, which will put average OTR contractors' compensated mile pay at more than $1.05 per mile. For regional independent contractors, the fuel surcharge increase puts average compensated mile at more than $1.38 per mile.
Additionally, OTR and regional company drivers will see a pay boost with a starting earning potential of at least 52 cents per mile with a new pay package.
"The resolve and determination of our KLLM company drivers and independent contractors throughout the last year has been remarkable," said Jim Richards, KLLM President and CEO. "They have kept America moving throughout the ongoing COVID-19 crisis by keeping food and pharmaceuticals stocked and on the shelves despite unprecedented challenges. We are proud of these men and women, and this pay package increase only further solidifies KLLM as one of top carriers in the nation for driver compensation."
Women in Trucking seeks award nominees
The Women in Trucking Association is seeking nominees for its second annual Female Driver of the Year award, which recognizes outstanding female truck drivers who lead the industry in safety standards while also promoting the image of trucking.
The application is open to any female driver who has safely driven at least one million consecutive accident-free miles. The driver must be nominated by the carrier where she is currently leased or employed and must have at least three years of experience with that company.
The finalists and overall winner will be recognized at the 2021 Salute to Women Behind the Wheel event at the Mid-America Trucking Show in Louisville, Kentucky, on Friday, March 26. The winner will be chosen based on her safety record, positive community contributions and impact on the public image of the trucking industry. She will receive a plaque, commemorative ring and more.
Nomination forms can be submitted here by Feb. 1, 2021. The award is sponsored by Walmart.