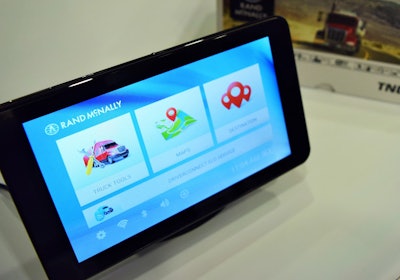 Trucking news and briefs for Monday, Nov. 30, 2020:
Rand McNally DriverConnect ELD service back up for operators
After last week's outage, as of midnight between Sunday, Nov. 29, and Monday, Nov. 30, Rand McNally reports its cloud-dependent services, included its electronic logging device systems, are well on the way toward being restored to functionality. Kendra Ensor, speaking on behalf of the company, said that "drivers using the ELD systems are compliant, able to view, edit, and certify logs as well as provide them in the event of a roadside inspection."
Back-end systems for DriverConnect, including the web portal for "reports and other back-office features," she added, "should be coming on-stream soon, as should the corporate and fleet websites."
Chicago and Richmond, Kentucky, phone systems are up and running, too, as is the company's customer support network. "We continue to provide added additional support staff who are reachable via phone or support chat," Ensor said, and "FMCSA has been kept informed of the progress as well."
The company further emphasized, as it had in its original report of the outage (attributed to a "cyber incident"), that the "navigation functionality of our GPS devices was never impacted; those devices continue to work, as do other consumer electronics."
Read more about the case via this link to its original reporting with detail on what the regs say about logs in the event of an ELD malfunction:
Nikola-GM deal for hydrogen truck development restructured
Nikola Corporation announced Monday the signing of a non-binding Memorandum of Understanding (MOU) with General Motors, calling for the Detroit auto giant to provide fuel cell technology for Nikola's commercial trucks.
Under the terms of the MOU, Nikola and GM will jointly work on the integration of GM's Hydrotec fuel-cell technology into Nikola's Class 7 and Class 8 trucks. GM will engineer its fuel cell system to specifications mutually agreed upon by both companies, and GM and Nikola will discuss the scope of services that GM would provide for the integration of the fuel cell system into Nikola's vehicles.
The new deal between the two companies does not include a $2 billion equity stake in Nikola for GM, or GM-led development of Nikola's Badger pickup – two linchpins in a tie-up that was announced in September.
Nikola said Monday it will refund all order deposits for the Nikola Badger as the pickup was dependent on an OEM partnership.
A potential GM/Nikola partnership has been on the ropes for nearly three months. Mere days after its early-September announcement and subsequent fan-fare and stock price spike, stock short-seller Hindenburg Research released a report calling Nikola an "intricate fraud built on dozens of lies over the course of its founder and executive chairman Trevor Milton's career."
Milton stepped down as executive chairman of his company in late September and earlier this month several Nikola Corporation officers and employees received subpoenas from both the Securities and Exchange Commission and Department of Justice as the two agencies investigate many of the claims spelled out in the Hindenburg report. –Jason Cannon, CCJ Editor
Donations to St. Christopher Fund to be matched Tuesday
Dart Transit and Total Quality Logistics have each pledged to match all donations up to $2,000 to the St. Christopher Truckers Relief Fund on Giving Tuesday, Dec. 1. For example, a $25 donation will be matched by a $25 donation from Dart and TQL to make it a $75 donation.
Giving Tuesday is a global generosity movement for people and organizations to donate money to help various organizations and communities.
Giving Tuesday donations to the St. Christopher Fund can be made here. St. Christopher helps truck drivers who are out of work due to illness or injury by helping pay living expenses, utilities, vehicle payments and insurance.
New York-based trucking company owner charged in chameleon carrier scheme
The owner of a New York-based trucking company has been charged after allegedly concealing ownership information to cover up a negative safety rating.
According to the U.S. Attorney's Office for the Western District of New York, Tony Kirik was charged with making false statements to the Federal Motor Carrier Safety Administration, U.S. DOT and conspiring to do the same. The charges carry a maximum of five years in prison and a $250,000 fine.
According to the criminal complaint, Kirik owned and controlled Dallas Logistics, which was put in the name of a nominee owner to conceal the fact that it was affiliated with another trucking company, Orange Transportation, that Kirik also controlled, the complaint alleges.
Orange Transportation had received a negative rating from the DOT, the complaint says, which would have also applied to Dallas Logistics had the true relationship between the two entities been disclosed to FMCSA.
The complaint also alleges that Kirk directed his employees to create and present false documents and representations to FMCSA.
Pilot Flying J hosting giveaway for drivers
Beginning Tuesday, Dec. 1, Pilot Flying J will ask a question each day for 12 days on its Facebook page as part of its Hauliday Giveaway for truck drivers.
To enter, drivers need to answer the question in the comments of the post within 24 hours for a chance to win that day's prize. Prizes include power inverters, radios, GPS units and PFJ gift cards.
The contest runs through Saturday, Dec. 12.
Pride Transport raises driver pay
Salt Lake City-based Pride Transport announced it is increasing driver pay by 4 cents per mile, effective Dec. 1. The company is also offering a $10,000 sign-on bonus, which will be paid out over two years – equivalent of an additional 4 cents per mile, the company says.
The company says its base pay rate is now 45 to 47.5 cents per mile, in addition to pay for layover, breakdown and stops, plus guaranteed detention. Drivers also receive paid holiday and vacation time. Pride also has a 401(k) program in which it matches contributions by 20%.