Trucking news and briefs for Feb. 22, 2021:
Biden announces exclusive PPP application period for smallest businesses
President Biden announced a two-week period in which very-small businesses will have exclusive access to apply for the Paycheck Protection Program's forgivable loan program. The period, which he said was expected to begin on Wednesday, would limit applications for the PPP to businesses and nonprofits with fewer than 20 employees. The Small Business Administration, which administers the PPP in cooperation with various financial institutions, Biden said, would also make it easier for the self-employed to secure PPP loans, increasing the funding amounts available to those businesses.
"These changes will bring much-needed long-overdue help" to small businesses, Biden said.
According to recent reporting, at least half of the respondents to Overdrive polling about the latest round of the program planned to apply for funding, with another fourth suggesting they might apply. Read that reporting, including guidance on the revamped PPP's terms, via this link.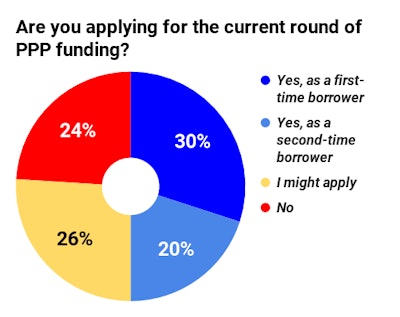 Goodyear buys rival Cooper Tire for $2.5B
The Goodyear Tire & Rubber Company announced Monday morning that it intends to acquire Cooper Tire & Rubber Company for $2.5 billion, uniting two of the top five tire producers in North America in the second half of this year.
In the combined portfolio, Goodyear will be positioned as the original equipment and premium replacement tire in the combined truck and automotive portfolio, while Cooper, Roadmaster, Mastercraft, and Mickey Thompson will maintain their mid-tier brand position.
After closing, the combined company will be headquartered in Akron, Ohio, but Goodyear expects to maintain a presence in Findlay, Ohio.
Under the terms of the transaction, which has been approved by the Boards of Directors of both companies, Cooper shareholders will receive $41.75 per share in cash and a fixed exchange ratio of 0.907 shares of Goodyear common stock per Cooper share for a total equity value of approximately $2.8 billion. Based on Goodyear's closing stock price on February 19, 2021, the last trading day prior to the announcement, the implied cash and stock consideration to be received by Cooper shareholders is $54.36 per share, representing a premium of 24% to Cooper's closing stock price on February 19, 2021, and a premium of 36% to Cooper's 30-day volume weighted average price as of the close on Feb. 19, 2021. Upon closing of the transaction, Goodyear shareholders will own approximately 84% of the combined company, and Cooper shareholders will own approximately 16%.