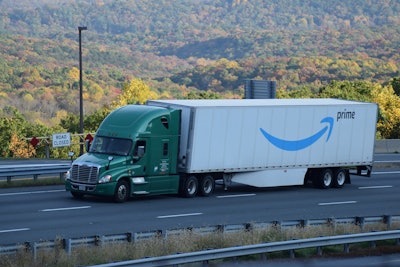 The pandemic has been a windfall for certain retail niches, like home improvement and home delivery, helping keep many truckload and local delivery operations busy as much of trucking rebounded from the spring 2020 downturn.
Assuming the economy sees continued reopening this year, will that change retail spending habits? That was one of the main questions addressed Wednesday in a webinar produced by Convoy, a digital freight network.
Aaron Terrazas, Convoy's director of economic research, said that contrary to what some observers expect, consumer spending habits might not revert to what they had been as COVID-19 concerns diminish.
A year ago, there was concern that a soft market over five quarters might take a toll on some carriers, Terrazas said. There were some positive signs, but those faded when the pandemic hit most of the economy hard, initially including many trucking operations, though most of trucking has since recovered.
"How on earth did the freight economy manage to stay so strong in a year when GDP notched one of its biggest contractions since the 1930s?" he said. "The answer, of course, is stuff."
Consumer spending on durable and non-durable goods dropped dramatically at the pandemic's start, but quickly rebounded to beyond pre-pandemic levels. From March to December, total per capita goods spending rose $3,000 for "a very strong year."
Home Depot and Lowe's reported sales were up about 25% for the quarter that ended in late January, reflecting the choice of many homeowners to improve their properties while being stuck at home. Amazon reported 2020 sales increased 38%, to $386 billion, from 2019, as customers stayed away from brick-and-mortar stores.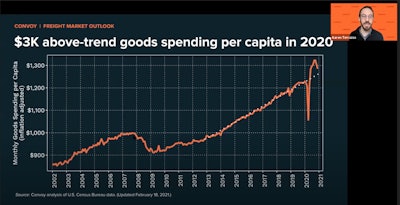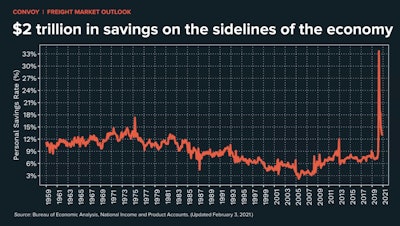 "Once things open, presumably there'll be a shift toward services spending," Terrazas said, citing travel, restaurants and concerts. "The assumption is that a shift toward services spending is going to be a negative on goods spending. I think that's a little bit of a false equivalency."
That's partly because consumption of services "still implies spending on goods," with the goods bought "through different channels." Restaurants are part of the service industry, for example, but their operation requires food and many other supplies.
"Can retail spending stay as strong as it has been despite what is generally a soft labor market?" he asked. "There are some signals, I think, that it can."
One is that Americans plan to pull out their wallets this year. A Federal Reserve Bank of New York annual survey asks consumers about spending plans for the coming year. "Across all income groups, spending plans are at five- to six-year highs," Terrazas said.
"In addition, Americans have suddenly become prolific savers," with those unhurt economically by the pandemic better able to bankroll extra spending. Individuals' savings rates skyrocketed to 33% at the pandemic's start. They quickly dropped to 13%, but that's still the highest rate in years.
Assuming retail spending remains strong this year, the corresponding freight demand poses a challenge for carriers struggling to find enough drivers. That's the case even though driver pay has increased markedly in good and bad markets over the last four or five years, Terrazas said. "The market has enabled a lot of owner-operators to weather the storms they've been through the past couple of years."
Other factors, though, limit fleets' ability to attract and keep drivers, Terrazas said: the impact of the year-old federal Drug and Alcohol Clearinghouse, CDL schools operating below capacity due to pandemic-related restrictions, and the attraction of workers to industries such as construction that are prospering and have traditionally competed with trucking for labor.