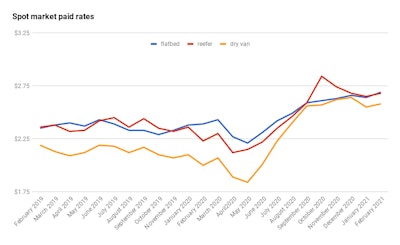 Per-mile rates on the spot market resumed their upward momentum in February after growth stalled slightly in January, according to rates data from Truckstop.com. The dips in January followed a roughly six-month streak of gains seen in the back half of 2020 as certain freight sectors were buoyed by shifts in consumer spending and a jumbled supply chain put continued upward pressure on spot rates.
In February, those market forces appear to have regained their footing, with flatbed adding 5 cents a mile on average and reefer and dry van rates adding three cents a mile on average.
Flatbed's $2.69 per-mile average in February was the segment's highest since September 2018 and was 30 cents higher than the same month last year and 34 cents higher than February 2019.
Reefer's $2.68 a mile average, three cents higher than January, outpaced last February by 45 cents a mile. Reefer's February per-mile average was 31 cents higher than February 2019. Reefer hit multi-year highs in the fall.
Lastly, dry van's $2.58 average, also up three cents month to month, bested January 2020's average by 48 cents and January 2019 by 32 cents. Like reefer, dry van hit multi-year high marks in the fall.