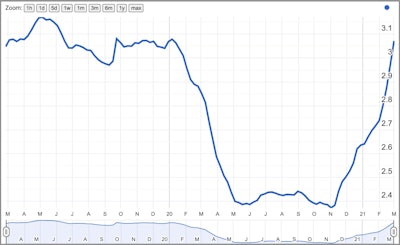 Trucking news and briefs for Tuesday, March 2, 2021:
Diesel prices soar past $3/gallon
For the first time in more than a year, average diesel prices across the U.S. are higher than $3 per gallon, according to the Department of Energy's weekly report.
The U.S.' average price for a gallon of on-highway diesel for the week ending March 1 is $3.072, up 9.9 cents over the previous week. Fuel prices are at their highest mark since the first week of 2020 when prices were at the year's high of $3.079, according to DOE.
During the most recent week, prices increased in all regions with the most significant increase being seen in the Rocky Mountain region, where prices jumped by 12.7 cents.
The nation's most expensive diesel can be found in California at $3.846 per gallon, followed by the Central Atlantic region at $3.20 per gallon.
The cheapest fuel can be found in the Gulf Coast region at $2.837 per gallon, followed by the Rocky Mountain region at $2.983 per gallon.
Prices in other regions, according to DOE, are:
New England – $3.014
Lower Atlantic – $3.018
Midwest - $3.041
West Coast less California – $3.174
ProMiles' numbers during the same week saw fuel prices increase by 9.3 cents, bringing its national average to $2.925 per gallon.
According to ProMiles' Fuel Surcharge Index, the most expensive diesel can be found in California at $3.688 per gallon, and the cheapest can be found in the Gulf Coast region at $2.729 per gallon.
Legislation would boost support of women truckers
A bill reintroduced in the U.S. Senate would establish a Women of Trucking Advisory Board within the Federal Motor Carrier Safety Administration to bring more women into the trucking industry. The bill was first introduced in 2019.
The Promoting Women in Trucking Workforce Act was reintroduced by U.S. Senators Tammy Baldwin (D-Wisconsin), Jerry Moran (R-Kansas), Deb Fischer (R-Nebraska) and Jon Tester (D-Montana) – members of the Senate Committee on Commerce, Science and Transportation. U.S. Representatives Mike Gallagher (R-Wisconsin) and Sharice Davids (D-Kansas) also introduced the bipartisan companion legislation in the U.S. House of Representatives.
Under the bill, the Women of Trucking Advisory Board "would identify barriers to entry for women in the trucking industry, work across organizations and companies to coordinate formal education and training programs and help identify and establish training and mentorship programs for women in the industry. The legislation also requires the FMCSA administrator to submit a report to Congress on the board's findings and recommendations."
According to a press release from Sen. Baldwin, women currently make up 47% of the United States' labor force but represent 24% of America's trucking workforce and only about 7% of drivers.
The bill has received support from across the trucking industry, including from Women in Trucking, the American Trucking Associations and the Owner-Operator Independent Drivers Association.
"Working with Congress to make careers in trucking appealing, sustainable and successful for anyone who wants to enter our industry is a priority for the Owner-Operator Independent Drivers Association," said OOIDA President Todd Spencer. "We support the Promoting Women in Trucking Workforce Act because it will not only help more women begin careers in trucking but will improve conditions for drivers currently behind the wheel. Some of the safest and most successful truckers on the road today are female members of OOIDA. We commend the sponsors of this legislation for ensuring their unique perspective and experience as small business owners will play an integral role in efforts to promote women in trucking."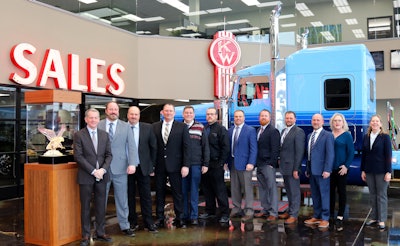 PrePass adds 19 Missouri locations to bypass service
PrePass Safety Alliance recently completed expansion of PrePass' by[ass app service to 19 weigh station locations operated by the Missouri Department of Transportation.
The new PrePass mobile app sites in Missouri include:
Bloomsdale ­­– SB I-55
Caruthersville – WB I-155
Charleston – SB I-57
Eagleville – SB I-35
Foristell – WB & EB I-70
Harrisonville – SB US 71
Joplin – WB & EB I-44
Kearney – NB I-35
Mayview – WB & EB I-70
Platte City – NB I-29
St. Clair – WB & EB I-44
Steele – NB I-55
Watson – SB I-29
Ormond Beach Love's to be fuel-and-go only for Bike Week
Services at the Daytona Beach/Ormond Beach, Florida, Love's Travel Stops location will be disrupted as the area hosts Bike Week from March 5-14. Daytona Harley Davidson, which is located next door to the Love's in Ormond Beach, is a major participant in the event. That causes unusually high traffic in and around the area, so during this time, Love's says it can only allow trucks to fuel-and-go during the day.
Long-term parking won't be available during the day at this location throughout Bike Week. A statement from Love's said about 15 parking spots will be available for drivers to park overnight, but they must be gone by 7 a.m.
In past years, the increased traffic volumes for professional drivers waiting to fuel – combined with the significant influx of cars, trucks and motorcycles – caused severe traffic jams, forcing state police to close the exit.
Love's said it wants to provide necessary fueling for professional drivers, but to ensure that occurs, drivers will need to continue moving in and out of the lot during the day.