In April 2019. Kenyette Godhigh-Bell, whom you heard at the top, was a company driver at Grand Island Express. Our own "Long Haul Paul" Marhoefer met her for the first time at the company headquarters in Nebraska when researching and recording for what would become the Over the Road podcast. If you're a regular Overdrive Radio listener, you heard that episode and met Godhigh-Bell from that time. Part of the episodes featured the sound of a class intended for drivers at the company who were considering the decision to buy a truck themselves.
It was no accident that Kenyette was in that class. About a year to the day later, she took the keys to a 2017 Freightliner Cascadia and leased on with small fleet B-F Trucking out of Plainfield, Ill.. Today, she's in what she calls a bit of a "honeymoon period" with her authority active since the beginning of the year, running short-haul loads from Amazon facility to Amazon facility in and around Atlanta, where she lived as a young woman and attended school -- though her business is based out of Florida.
Here's the thing, though, as she's working her way into the independent business, she's got an eye toward the future, and laying the groundwork with partnerships she'll need as she moves to purchase other trucks, hire drivers and so much more. Take a listen:
Also in the podcast, our own James Jaillet and I mull over recent spot freight dynamics, illustrated in his story about a potential return to seasonal patterns this year, among other things. Illustrated as such here: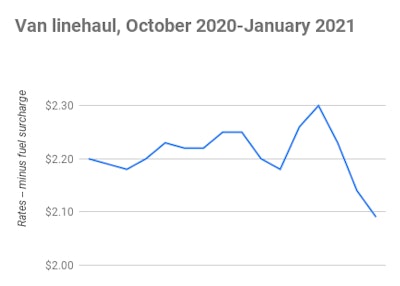 As Jaillet put it in the podcast, "fuel prices are going up ... at the same time that the momentum in the marketplace is slowing a bit." Read the discussed story via this link to coverage published earlier this week. And don't neglect rising fuel costs when negotiating your rates if you're not in a contract with an adjusting fuel surcharge. While rates remain elevated certainly above previous years, as fuel rises, if you want to hang onto the gains made, an upward rates adjustment will no doubt be necessary.
Catch further of Overdrive Radio via the playlist below, or subscribe wherever you get your podcasts.