Trucking news and briefs for Wednesday, April 28, 2021:
First-quarter cargo theft levels similar to same period a year ago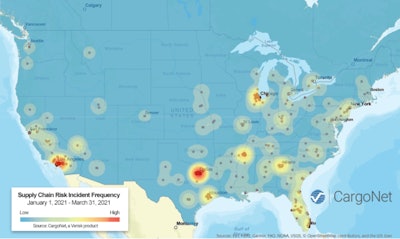 Cargo theft recording firm CargoNet is reporting similar levels of theft activity for the first quarter of 2021 as the same period of 2020. The firm says reports of industry-related fraud schemes increased, while outright theft of trucking vehicles or cargo decreased slightly.
CargoNet recorded 289 thefts or attempted thefts in the first quarter of 2021, which is a decrease from the same period in 2020. The firm says the decrease was "mostly felt in fewer theft schemes targeting truckload copper shippers in Illinois, trailer burglaries in Illinois, Pennsylvania and Georgia, and fewer full-truckload thefts in Pennsylvania." The average value per theft was $142,574, the firm adds.
Theft activity in first quarter was highest in Texas, California and Florida, and all three states reported significant increases in theft. Theft activity in Florida fell in February but spiked significantly in March, CargoNet says. This paved the way for a 26% increase when compared to first quarter of 2020 in theft activity in the state. Historically, theft was most frequent around Miami, but that trend has recently shifted to truck stops and retail parking lots in the Jacksonville, Tampa and Orlando metropolitan areas.
For California and Texas, CargoNet's analysts have worked to prevent victimization by releasing several warnings about commodities and locations of concern to CargoNet members so they can harden their supply chains to theft. The firm continues to monitor crime patterns in both states – specifically frequent attacks on truckload computer electronics shippers in Northern and Southern California. Pilferage and full-truckload theft of computer electronics shipments in California have increased 88% year-over-year.
Own a Mack? Enter 2022 Mack Trucks Calendar contest
Proud owners of Mack trucks will have the chance to be featured in the upcoming 2022 Mack Trucks Calendar by entering the Mack Calendar Contest between May 4 and June 4.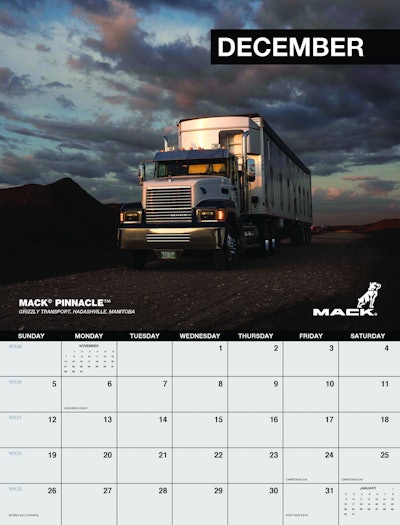 As in past years, the Mack Calendar Contest calls on Mack's social media followers to select deserving truck owners to be spotlighted for a month in next year's Mack calendar.
"It's always fun to see the truck submissions by our passionate fans, whether they're current production models or vintage models still hard at work," said John Walsh, Mack Trucks vice president of North American marketing. "The annual calendar contest brings together members of the Mack family to celebrate hard work, determination and great-looking trucks."
Nominations will be accepted in categories for each of Mack's seven current models, including the Mack Anthem, Granite, LR, MD, Pinnacle and TerraPro. There will also be a vintage category for Mack models that are no longer in production.
To be eligible, nominated trucks must currently be in operation in a business or trucking company, the truck must be in routine use and trucks may not be collector or show trucks that are no longer licensed for commercial use.
ATHS HQ to house trucking industry hall of fame
This country's trucking industry and the men and women who built and operate it will be enshrined in a new hall of fame in Kansas City, Missouri.
The American Truck Historical Society will house the American Trucking and Industry Leader Hall of Fame at its headquarters. The ATIL Hall of Fame will serve as a new home for existing Industry Achievement Awards programs and a place to recognize industry leaders and icons, according to the ATHS.
The announcement comes as ATHS celebrates its 50th year.
"There are various awards programs out there," ATHS Chairman Tom Mullen said. "We want those awards programs, their winners, and industry leaders to be known forever, easily found, and honored all in one trucking industry center."
The ATIL Hall of Fame is built around honoring all industry awards and safety recognition programs, including the well-established ATHS Awards program, and is set to grow through the inclusion of the whole trucking industry. The ATIL Hall of Fame can now invite all company and industry awards programs to display their programs as part of the overall trucking industry experience, alongside the ATHS Visitors Center and the Zoe James Memorial Library.
"For too long trucking professionals have been receiving prestigious awards, only to then be forgotten," said Laurence Gration, ATIL Hall of Fame executive director. "The ATIL Hall of Fame will allow proper recognition to continue and expand the awareness of the excellent work trucking professionals do as they contribute daily to our society."