Trucking news and briefs for Friday, June 25, 2021:
Biden, senators reach infrastructure deal
President Joe Biden on Thursday announced that he and a bipartisan group of 10 senators struck a $579 billion deal on infrastructure that includes $109 billion for roads, bridges and major projects. Combining the new spending outlined in the framework with baseline spending, the deal is worth $973 billion over five years and $1.2 trillion over eight years.
Overall, the Bipartisan Infrastructure Framework would provide $312 billion for transportation projects and another $266 billion for other infrastructure projects, such as water infrastructure, broadband, environmental projects and more.
Roads and bridges get the biggest slice of the pie, $109 billion. The framework also provides $11 billion for safety, $7.5 billion for electric vehicle infrastructure and $16 billion for ports and waterways. Other funding is allocated to public transit, passenger and freight rail and airports.
The Biden administration said the framework would be financed through "closing the tax gap, redirecting unspent emergency relief funds, targeted corporate user fees, and the macroeconomic impact of infrastructure investment."
The deal will need to pass the House and Senate before returning to Biden's desk to be signed.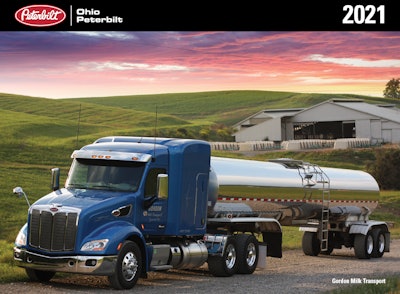 Ohio Peterbilt hosting calendar contest
Peterbilt truck owners have a shot at getting their trucks featured in Ohio Peterbilt's 2022 Peterbilt Truck Calendar.
Owners can submit their trucks here by Sept. 1. Photos must be taken in horizontal orientation.
The winning 12 entries will be featured in the calendar, and the 12 owners will receive a Peterbilt -branded jacket. One "Grand Prize Cover Winner" will receive a selected prize with a value up to $500, courtesy of Ohio Peterbilt.
Canadian driver recognized for helping trucker after collision
Daniel Cristian Ciorba, a truck driver based in Laval, Quebec, has been named a Highway Angel by the Truckload Carriers Association for helping a truck driver from his fleet, C.A.T. Inc., following a collision.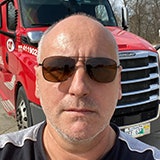 Ciorba was driving on I-57 near Dix, Illinois, when he saw another C.A.T. truck in his mirror traveling about a quarter mile behind him. As Ciorba came around a bend, he saw traffic quickly backing up due to a construction zone.
Ciorba had to cautiously slow down as a pickup truck was following closely behind him.
As Ciorba slowed, he checked his mirror and was shocked to see the other C.A.T. truck rear-end another tractor-trailer.
"I'm almost certain he must have been blinded by the sun," Ciorba said.
Ciorba stopped, turned on his 4-way flashers, grabbed his fire extinguisher, and ran to the accident scene. He saw that the C.A.T. truck had sustained heavy damage. Another motorist told him he could smell gas, so Ciorba quickly cut the battery cables to prevent a spark and disconnected the fuel lines. He then checked on the driver.
"The window was broken, and the door was crushed," he said.
The driver's face was covered in blood, and he was having difficulty breathing. He was pinned by the steering wheel.
"I told him everything would be fine and to keep calm and breathe," he said. "I tried to open the door with a hand bar, but the door was completely compressed."
He kept talking to the driver to keep him awake, but the driver lost consciousness three or four times.
First responders arrived within 20 minutes, but it took more than an hour to extricate the driver. Ciorba stayed on scene and called C.A.T. to relay the news so the driver's family could be informed. The driver's mother later thanked Ciorba for helping her son, who's now back at work.
TCA presented Ciorba with a Highway Angel certificate, patch, lapel pin and truck decals.
New Love's opens in Michigan
Love's Travel Stops opened a location in Alamo, Michigan, off of U.S. Highway 131.
The facility offers 59 truck parking spaces, a McDonald's restaurant, six diesel bays, five showers and laundry facilities. The store is the company's ninth location in Michigan.